Supamodu is an independent guide to different cultures from around the world. Are you curious to listen to the music of Ghana? Want to read a book from the islands of Fiji? Feel like some groundbreaking Colombian cinema? Or maybe your life does not seem complete until you've tasted a Slovak desert?
Supamodu is the place where you can get the recommendations on what to watch, read, listen to, or discover. Part reference, part showcase, it is a brave taxonomy of a boundless planet.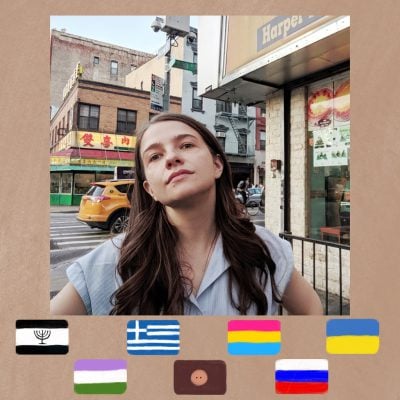 My name is Katya Kazbek, I am a writer based in New York City, and I came up with the idea for Supamodu out of curiosity.
One day my partner and I decided that every time we went out, we would seek out restaurants of different world cuisines, alphabetically, just for the sake of easiness. We tried delicious Afghan kebabs, loaded our plates with plentiful Bangladeshi dishes, and ate Canadian poutine for the first time. Armed with our hashtag #abcuisinenyc we continued eating our way through the five boroughs and the ever-extending list of countries, autonomous regions and islands.
The next step came as I was digging around the Butler library at Columbia University on an assignment for a class. My professor told us to look for books from countries that are not part of the literary canon and write an essay about them. Excitedly, I wandered around the shelves with West African literary fiction and nonfiction, some in French, some in English, their titles unusual and beguiling. I wanted to read them all. And it didn't seem like that much of a feat: the section was smaller than a section in the most cramped-up indie bookstore.
When I came to the section with the Central Asian literature, it was even smaller. Sad, but I realized that my native Russian could help me here, as it is the colonial language into which the ex-USSR literature was translated. Wandering in the library, thinking about the worlds far away but within reach, I realized that I could also read the world, one book at a time.
This is when I decided to put all my passion and time into the pursuit of manifestations of foreign culture. But it didn't have to be through books only, I would also watch films, seek out music, food, fashion, and anything else out there. And I would share my findings with everyone else who could ever decide to embark on a similar pursuit, so that they wouldn't have to look far for life-changing discoveries, be it to reconnect with their heritage or seek out experiences that change from alien to near and dear. Besides, particular political moments in the world made me realize with urgency that on a planet so concerned with preserving borders, the main goal of an artist is to make them obsolete.
So I started reading, watching, listening, trying, savoring, discovering. I experience everything firsthand before reviewing, and try to make sure that the creators I pick are independent spirits who talk with the future generations in their work. Other than that, I don't have many constraints in my approach, and anything goes. I review everything, from graphic novels to history books, from offbeat comedies to 8 hour long slow cinema, from danceable pop tunes to the weirdest ethnographic recordings. After all, what is genre, if not another border?
I hope you enjoy Supamodu. With any queries, please email me at katya@supamodu.com or use Contact form