A selection of works that showcase the contemporary culture of the South Asian nation where lack of coverage and omnipresent portraits of the Sultan remain the biggest obstacles to visual expression
Brunei is an elusive country. Hassanal Bolkiah, the sultan, rules the country very tightly, so very little seeps out. When I set out to look for Brunei artists and then, as my optimism withered, artworks, I found a bunch, but all in different places, without much useful informaiton, and cohesiveness. I sifted through a ton of google searches and picked out a few striking artworks that hail from Brunei. Unfortunately, I'm not able to accompany them with much info on the authors. However, I hope that my selection will give everyone a sense of what art is like in Brunei. Beautiful, diverse, and distinctive.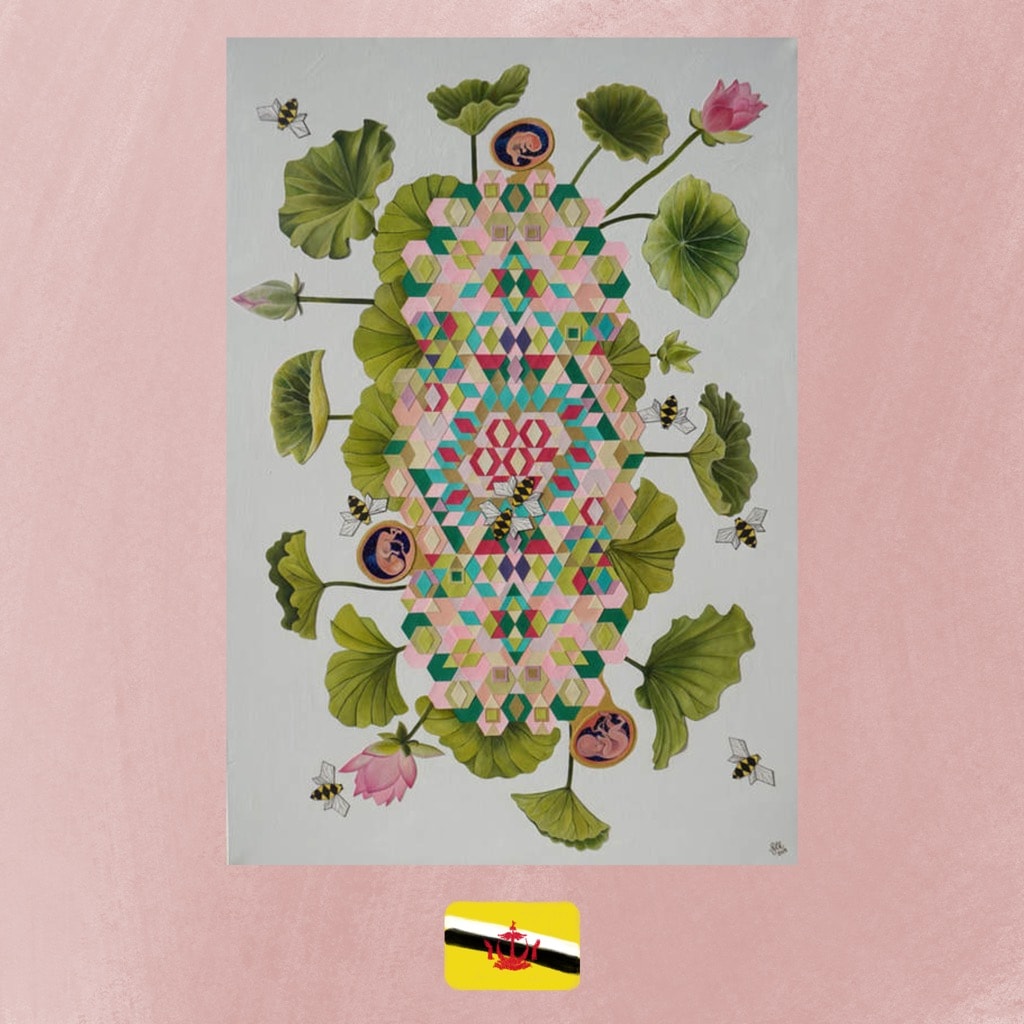 WHAT'S GOING ON: Mosaics, acrylic paint, and cardboard cutouts intermingle in complex, hybrid works. They simultaneously remind of set decorations and boardgame design and beguile the viewer to explore them. This one is called "Creator."
WHO MADE IT: Maziyah Yussof is an artist and a proud mother, which explains the whimsical usefulness of her pieces and the recurring theme of wombs and fecundity. Yussof finds inspiration in nature and her Muslim faith. She seems to be the absolute powerhouse among women artists of Brunei.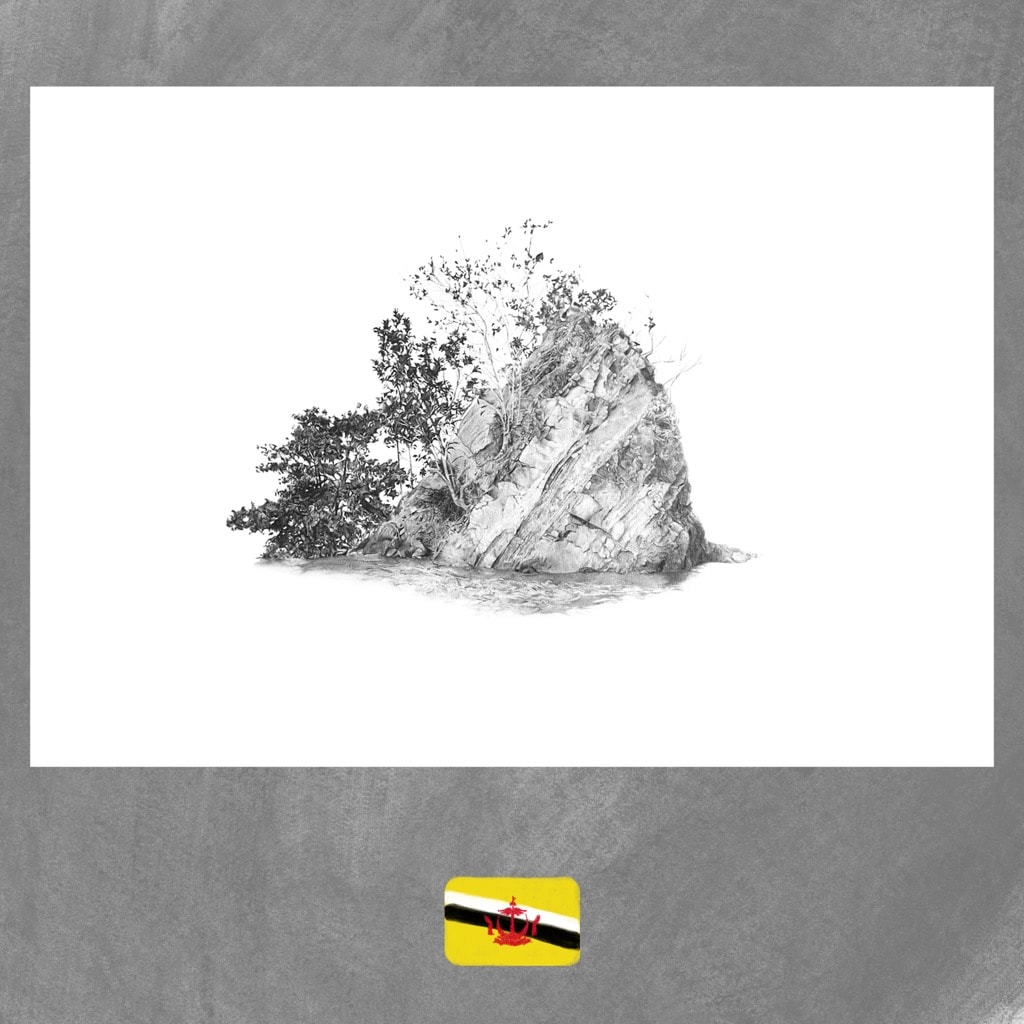 WHAT'S GOING ON: Jong Batu is a rock outcrop in the middle of Brunei River, although before I googled, I was convinced that this was some mythical land. Of course, there is a myth attached to the real-life Jong Batu's creation. A pretty woman was turned into a rock for her arrogance: so the mythical guess isn't that far off.
WHO MADE IT: Amalina AB is a hyperrealist painter who finds inspiration in Bruneian folklore and believes that no degree of accuracy can help art truthfully convey reality. None the less, she persists.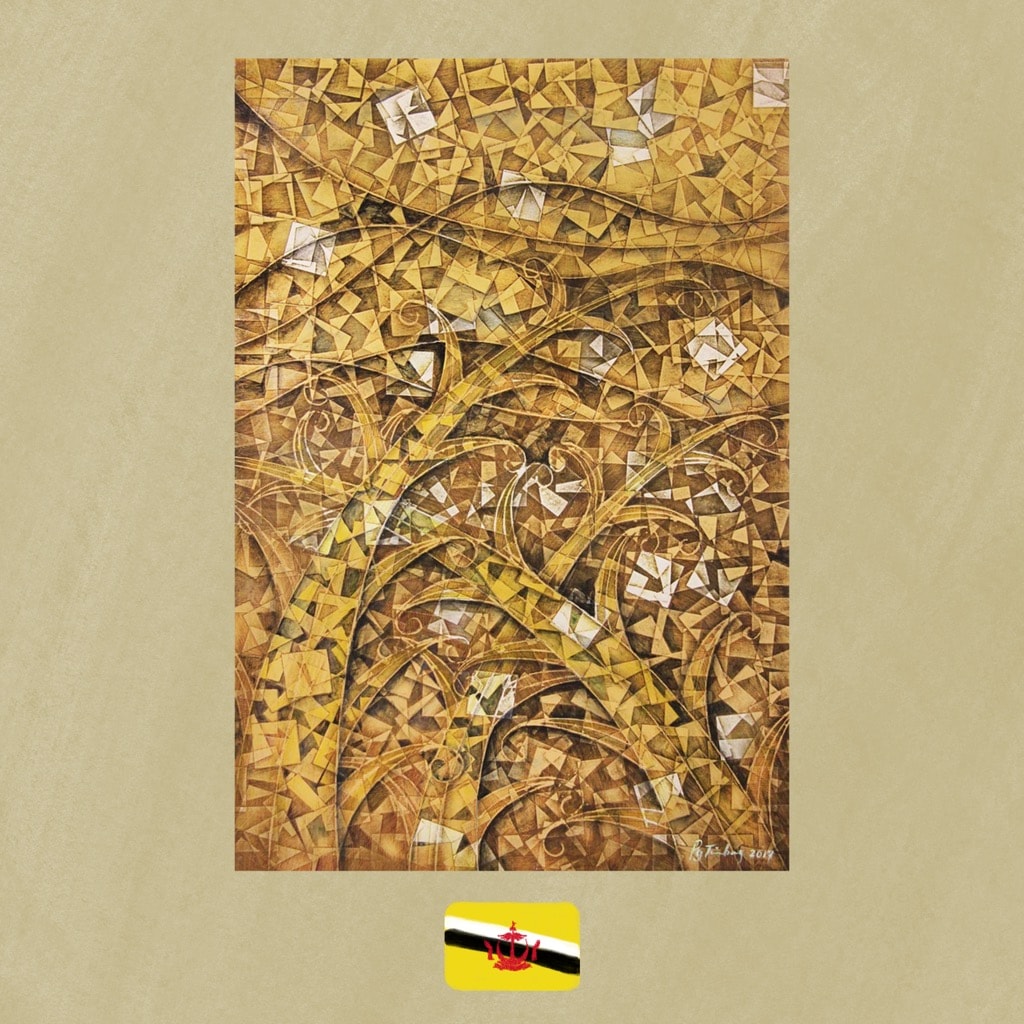 WHAT'S GOING ON: There is a lot of movement in this artwork. This, along with the way geometry intermingles with the organic blades of grass, or plant stems, sends me back to cubism, but with a refreshing infusion of Muslim patterns. It's called "Life 1".
WHO MADE IT: Pg Timbang. From the descriptions that exist online, he appears to be an artist preoccupied with transferring the hustle and bustle of Brunei Darussalam as well as Brunei traditional crafts to his canvas. His technique is very meticulous: he cuts out little ornamental pieces and then puts them together into intricate mosaics like the one pictured.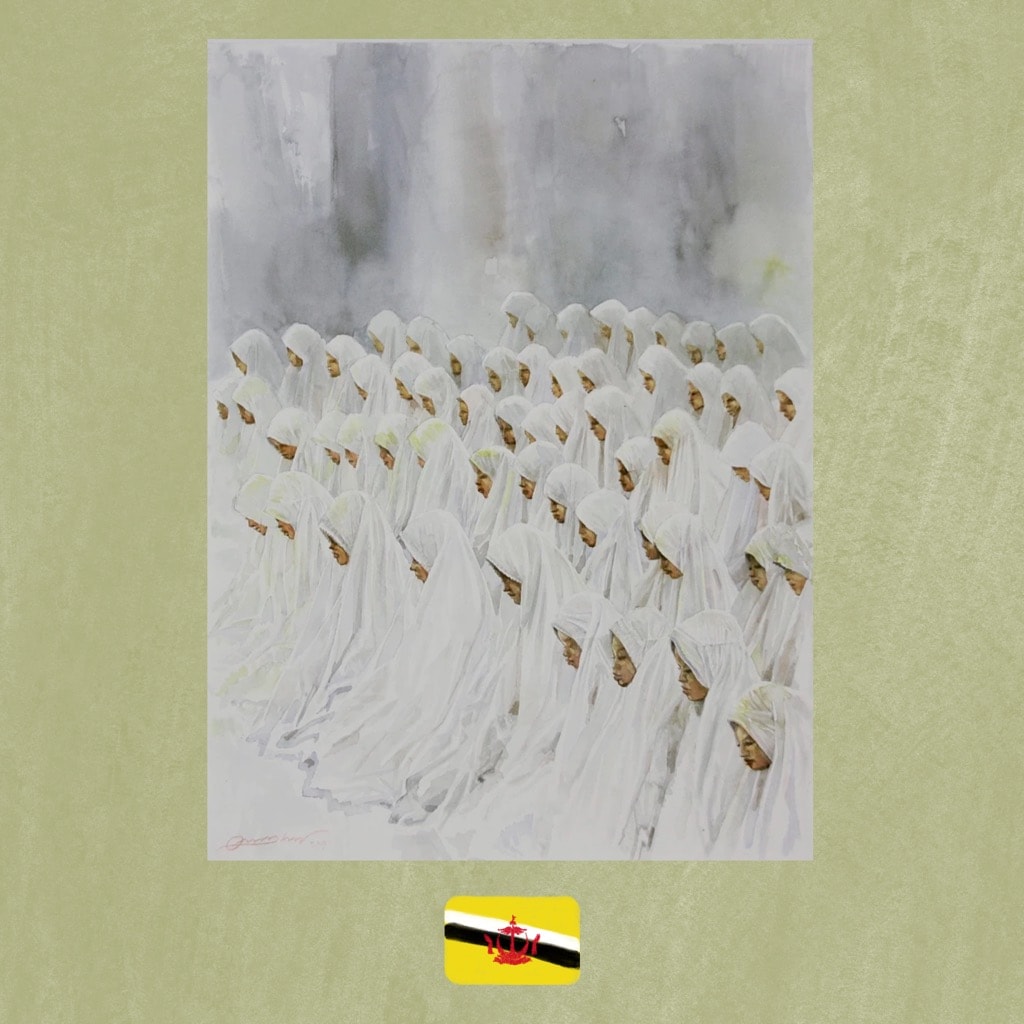 WHAT'S GOING ON: I go nuts for any mass depiction of bescarved women, but this one here, in a subdued watercolor, is so full of light and quiet power. It's called "Prayer."
WHO MADE IT: Haji Osman Bin Mohammad is a veteran watercolor artist. He also runs Creative Space, the cultural hub which hosts exhibitions, master classes, and everything else visual-arts related in Brunei.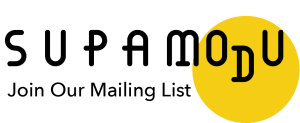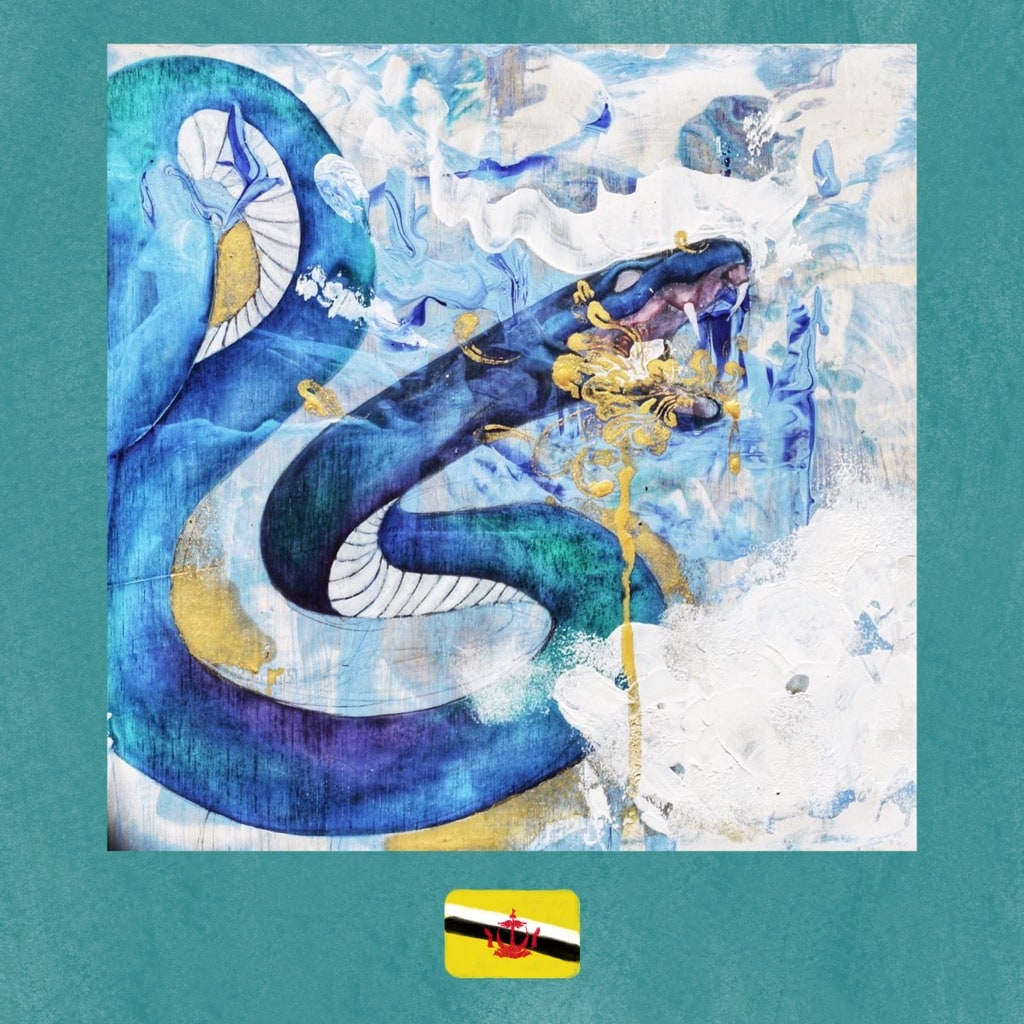 WHAT'S GOING ON: The snake seems right out of a fairy tale, and the golden venom that it produces gives me mixed South Asian/East Asian art vibes. I adore the voluptuousness of the piece. It's called "La Nuit Des Èphémères."
WHO MADE IT: Osveanne Osman is a young female artist. She is the daughter of Osman Mohammad, and they run Creative Space together. Osveanne is in charge of some quite stunning promotional visuals for them in addition to her artistic work.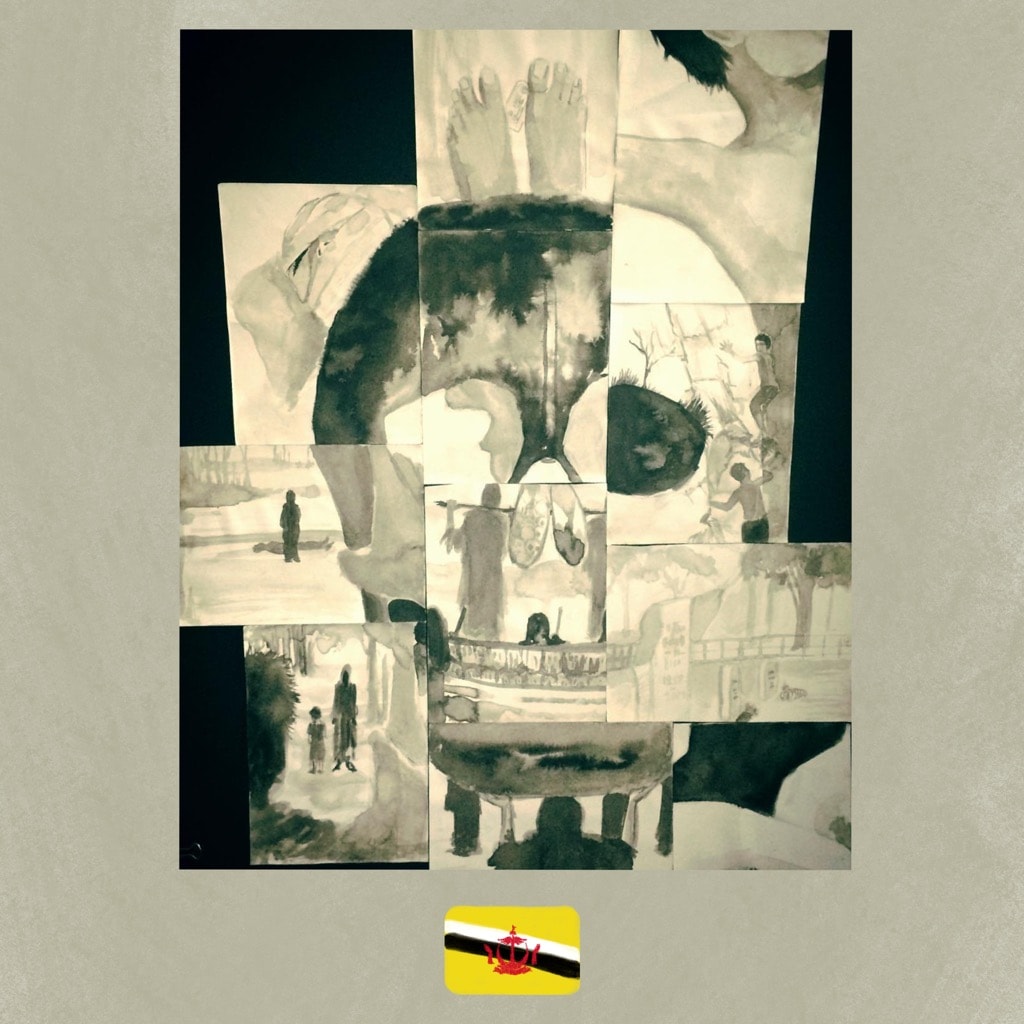 WHAT'S GOING ON: A skull is formed from small watercolors of feverish scenes: an affecting image that unfolds into layers of meanings. It's called "Smile."
WHO MADE IT: Mardhi Hamid is an artist who predominantly works in watercolor, and his manner is always full of dark brooding and veiled humor.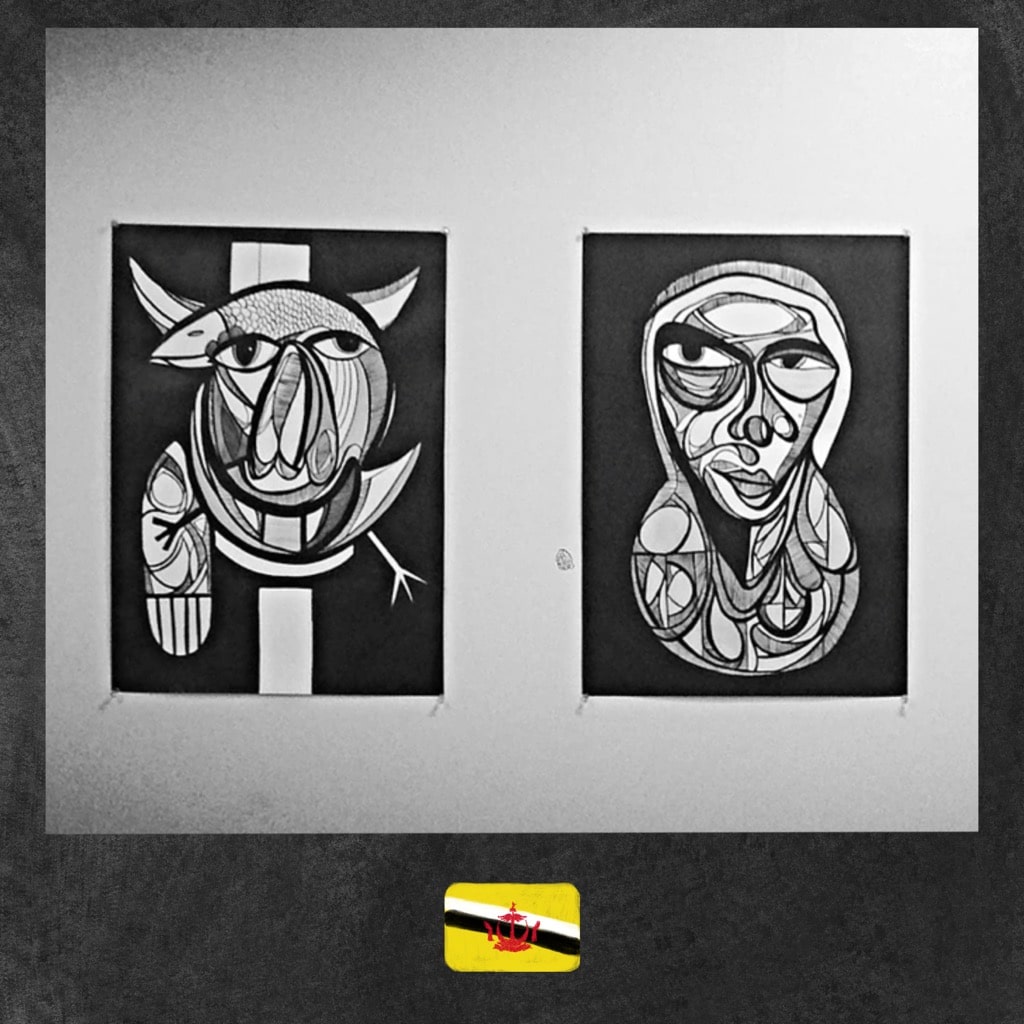 WHAT'S GOING ON: These portraits are reminescent of Ethiopian Coptic iconography in a modern iteration. The artist uses this style for ink and pencil alike, and they would make some excellent book illustrations, too. 
WHO MADE IT: Radzuan Rusli is also known as Juan Ree. He is a South Korean-educated painter, multimedia artist, and curator, who is dedicated to the concept of building bridges among cultures. You can buy his artworks on his website.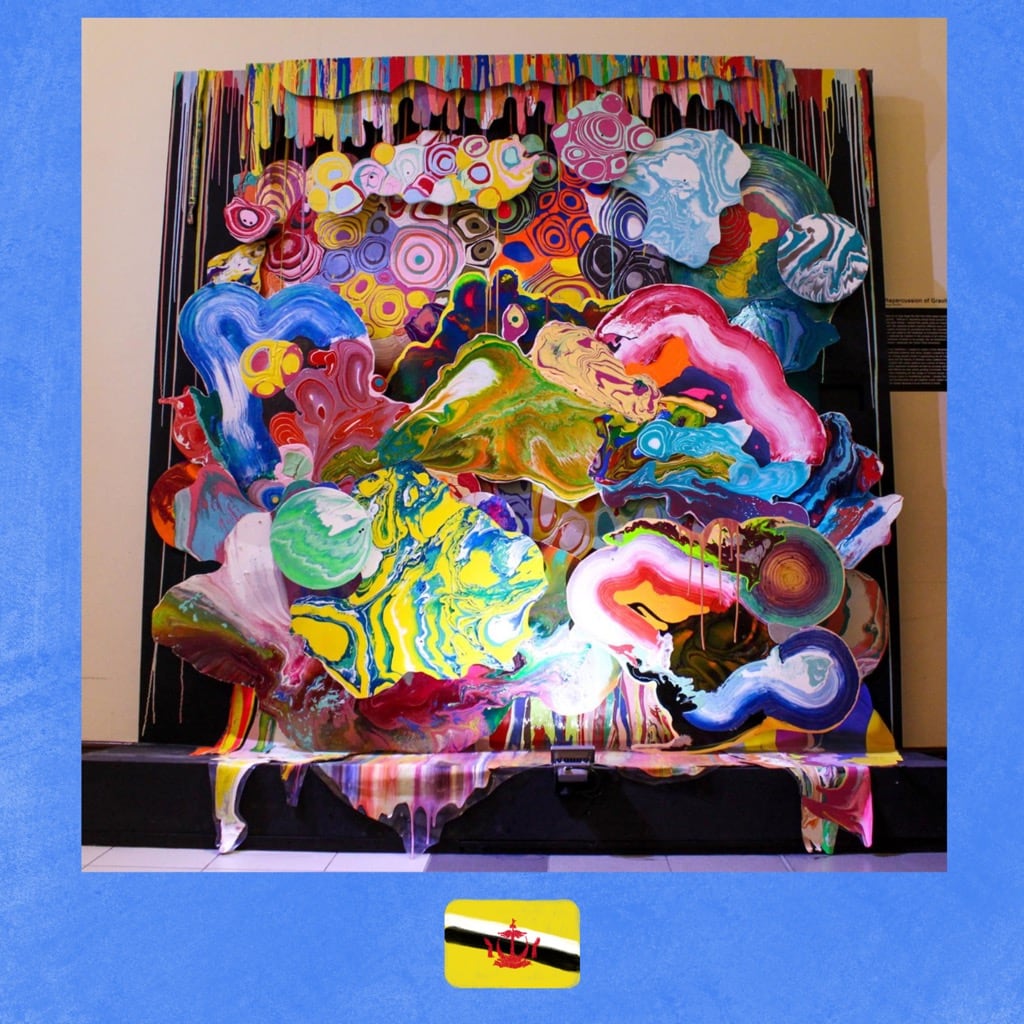 WHAT'S GOING ON: Another multilayered, multidimensional artwork. It's called "Repecussion of gravity," and it simultaneously looks like a stage set for a play written on acid, what the Earth will look like in 20 more years of excessive oil consumption, and a fitting throne for our long-awaited dog emperor. 
WHO MADE IT: Aqqil Arriffin is the artist, but I couldn't find anything else about them, only that they participated in the group graduation show at the University of Brunei Darussalam in 2015.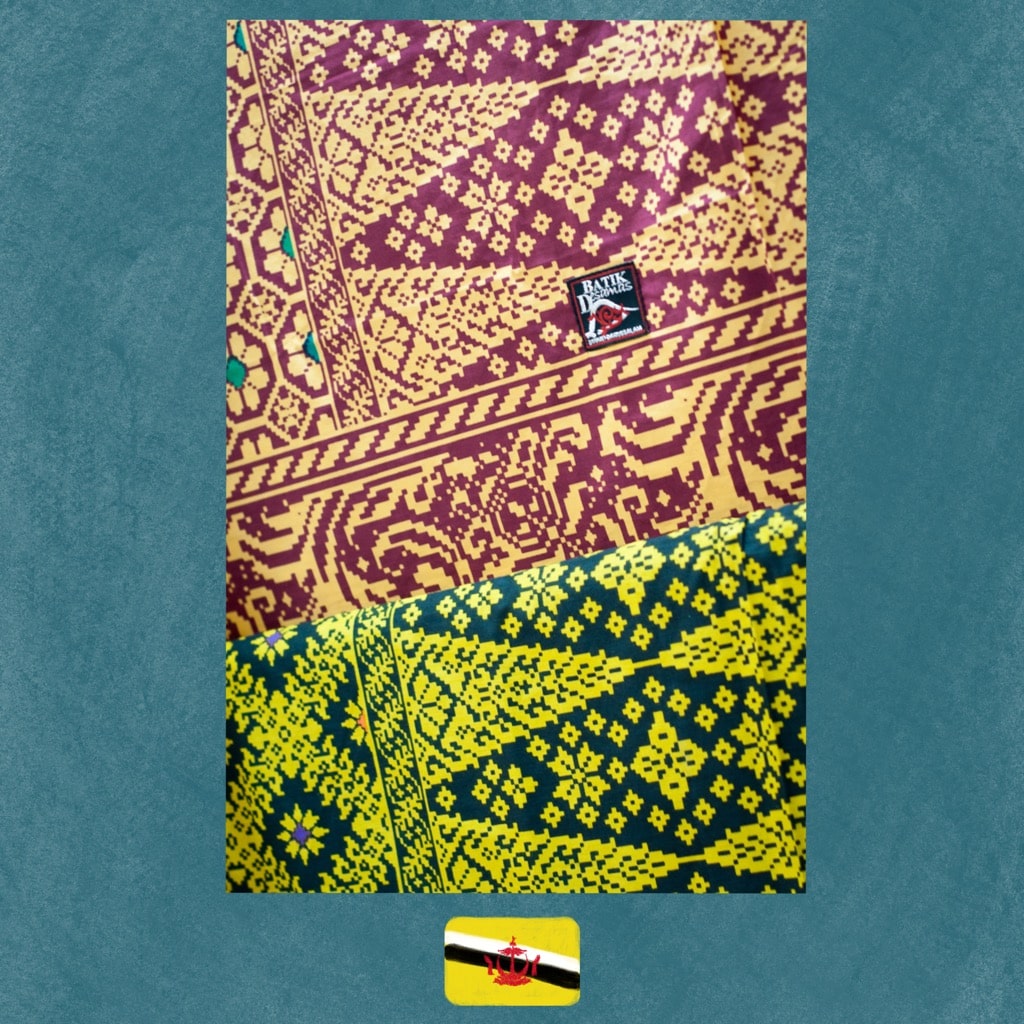 WHAT'S GOING ON: Pixel art meets traditional fabric design in batiks, the traditional wax-dyed clothes that are endemic to Borneo's various nations.
WHO MADE IT: Hj Zainal Abidin is the founder and chief designer of Batik Desamas, a workshop that designs original fabrics and makes clothes and accessories with them. It seems that Batik Desamas is the only endeavor that keeps the art of Batik alive in Brunei (it is, however, more widespread in Indonesia).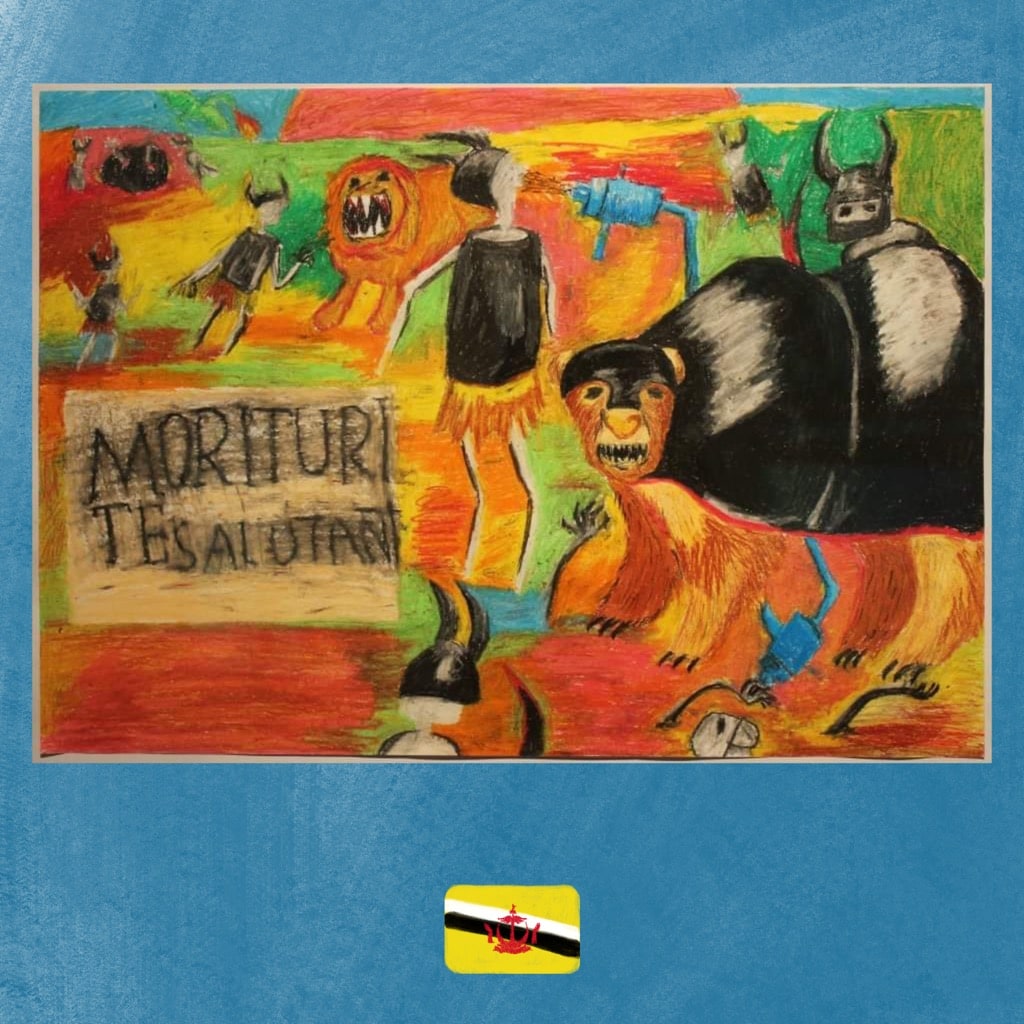 WHAT'S GOING ON: Choice outsider art or a professional artist with a stroke of genius. Either way, this is probably my favorite piece of all 10. Animals in the forest unite in factions of superheroes to fight humans with their robotic appendages of agricultural capitalism. The phrase "morituri te salutant," means "those who are about to die, salute you" in Latin.
WHO MADE IT: The artist's name is Izz A'Qeel bin Ridzuan, and, once again, I found nothing on them. It's sad because I would gladly buy this one for my personal collection of weird art.