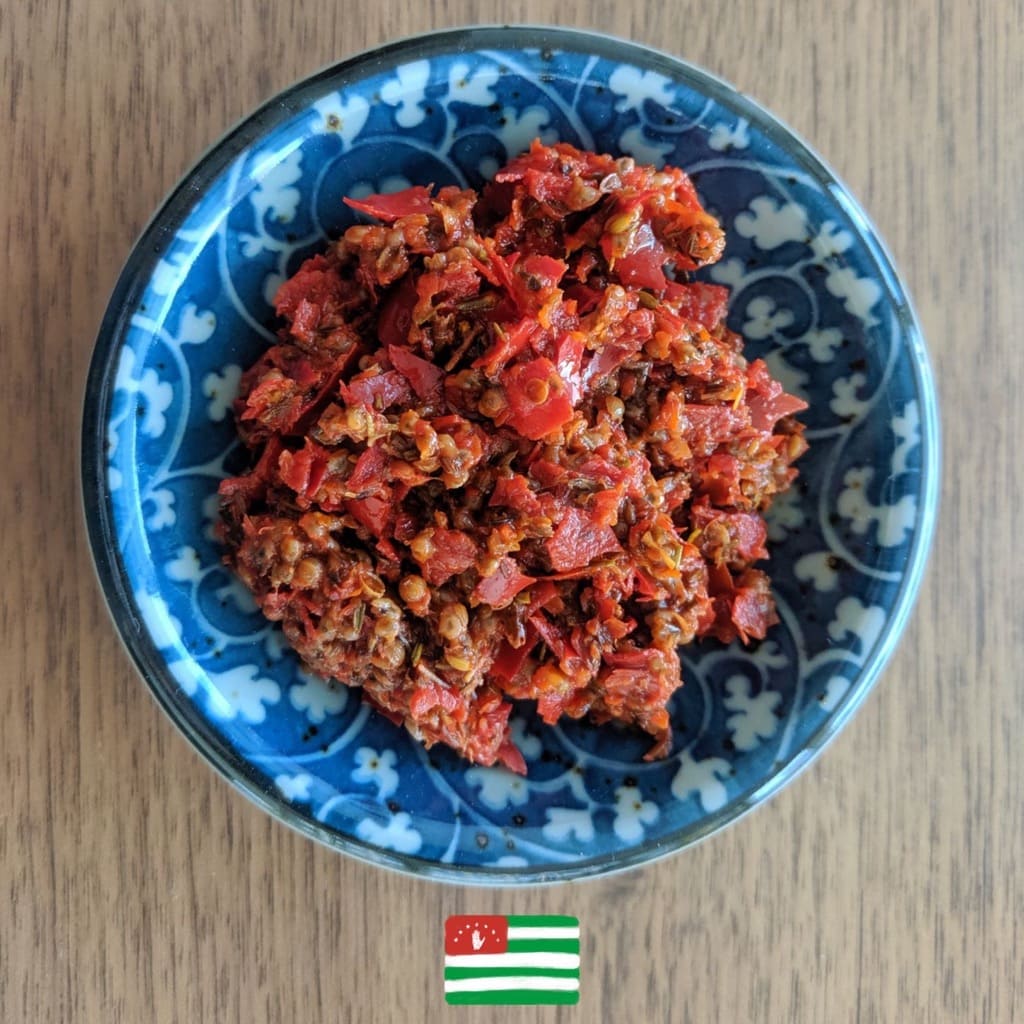 FROM ABKHAZIA: An easy to make pepper-garlic paste that's somewhere between Asian and Mediterranean: traditionally served with cheese grits or used for roast meats, it adds an unexpected twist to any dish
WHAT IS IT: Adjika is an Abkhazian condiment paste that is used to enhance cooked and uncooked dishes. In fact, the words "a tsyyka" mean "the salt" in Abkhazian, and it is indeed ubiquitous and can be added during cooking or on top of a dish for added flavor. Factually, it's a hot pepper pesto that's most similar in texture to curry paste: raw, but keeps well for quite a bit. Adjika had been appropriated into Georgian cuisine, where it's also quite a staple, and Russian cuisine, too, but in this case, it had been adapted to less spicy resilient Northern palates, and usually includes tomatoes. This is also tasty, but more in the salsa category, and should be discussed separately, as Russian adjika. There are many varieties of Abkhazian adjika that exist and different sets of spices one can use. I made my adjika according to the recipe on Apsny.ru, my go-to portal for all things Abkhazian. After all, adjika is considered an important part of Abkhazian heritage, and only Abkhazians know how to prepare it correctly.
WHAT IT TASTES LIKE: First and foremost, peppers. The more precise classification of hot peppers is not a common occurrence in the ex-Soviet space, so it's simply advised to use red chilies. For this one, I got some Korean chilies at the market, because our grocer grows Korean vegetables. Pretty much any red pepper with SHU around 1500 will work here. Feel free to go above or beyond depending on preference. I wouldn't use red jalapenos, because they have fatter flesh and hold more water. As you eat adjika, the fresh heat of peppers brushes over your palate first and then comes the zesty saltiness. And as you start chewing, the rest of the ingredients come through: the garlic envelops with its pungency, and the punchy coriander seeds like to take the spotlight, while the less pronounced dill seeds, basil seeds, and summer savory perform as a choir in the back. Walnuts are optional, but if used, they make the mixture more silky by releasing their oils and add heartiness. The arrangement of flavors might also change depending on how finely you grind the paste: I prefer mine chunky.
HOW YOU CAN USE IT: Adjika is uncooked and is perfect eaten raw, but you can also incorporate it in cooking. The most common use is to rub chicken, meat, fish, or vegetables with adjika before roasting: make sure you cover the pan, so it doesn't burn before the flesh is cooked through. You can also use it in soups, in pasta, and even stir-fries: heat some with oil and garlic before you put the rest of the ingredients in, kind of how you would do with curry or chili pastes. And you can top any dish with raw adjika: add it to anything grilled, mix with fresh veggies in a salad, perk up baked goods, or even popcorn. A traditional Abkhazian meal always features fresh cheese slices wedged into a steaming bowl of mamalyga, Abkhazian grits, and adding adjika to this mix of hot and cold, salty, and mild, adds a layer of delicious complexity. It's not easy to get the right cheese if you don't live anywhere near Abkhazia and Georgia, but you can try regular or smoked mozzarella, or even scamorza, with grits. The easiest way to incorporate adjika into your daily food, however, is to add it to sandwiches: an open-faced sandwich with some deli slices, vegan or non-vegan, with a generous smear of adjika, needs nothing else. And if you put adjika into a bowl of your favorite plain yogurt, you can have either a healthy snack or, if mixed, a tangy dip.
WHY YOU SHOULD MAKE IT: Let's face it: if you're not eating spices, you're not eating. Every good home chef should have a stack of condiments that bring their dishes to life, and I'm not talking about mustard or ketchup. Curry pastes, achiote, tahini, harissa, gochujang, jerk, rendang, sambal oelek, you name it. But some are easier to purchase than others, depending on where you live. And it's not very sustainable to get something imported from halfway across the world. Because adjika is so damn delicious but also not easy to buy, I've been making it myself while living in London, Paris, and New York, and it has always been super easy. You need some Asian specialty grocer to get your peppers, and a good spice store for basil seeds and summer savory. Or get whatever you can't find delivered from somewhere nearby. The traditional adjika was made using a special grinding stone. Obviously, no one has those anymore, so I use a pestle and mortar, or sometimes a food processor. There is a subtle difference, but I won't begrudge you the shortcut on the way to deliciousness.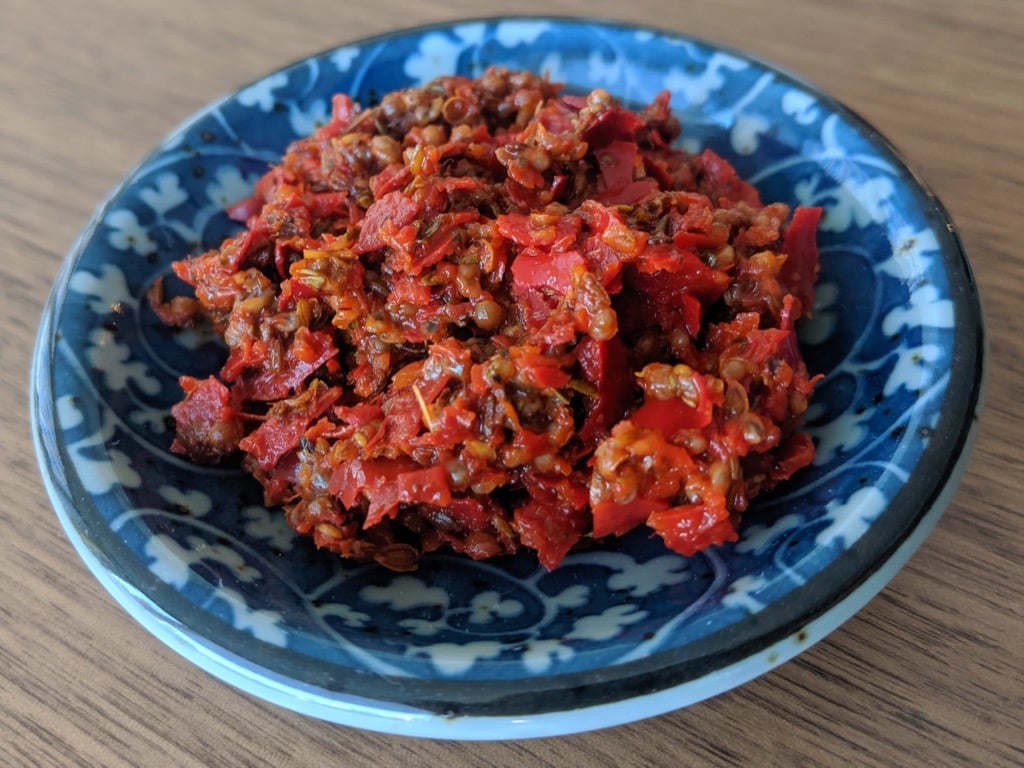 ADJIKA: Makes about 1.5 cups
INGREDIENTS:
Divide or increase by two either way to make more or less of it.
Red chili peppers.……………………….…………………….8 oz
Garlic…………….……………………………..………..…4 cloves
Coriander seeds…………………………….……..………1/2 tbsp
Dill seeds………………………….….……..……….1 heaping tsp
Basil seeds……………………….……………….…1 heaping tsp
Summer savory………………………………….…..1 heaping tsp
Kosher salt…………………..…..……..1/2 tbsp or more to taste
Walnuts (optional)……1/4 cup or more for desired consistency
HOW TO MAKE IT: 
Clean the peppers of seeds and stems, cut in rough chunks and place in a bowl with warm water. Cover, weigh down with something heavy, and leave for 4 hours.

Drain the peppers and mash them with garlic, coriander seeds, dill seeds, basil seeds, summer savory, and salt using a pestle and mortar or a food processor until desired consistency is reached.

If using, add walnuts and mash them together with the rest until they're incorporated.

Enjoy right away or refrigerate in a glass container with a tight fitting lid. It will keep for 6-9 months as long as you use clean utensils with it.