A reverence for the art of his ancestors and a deep love for the South Pacific Ocean make this Melanesian artist's paintings urgent, bold and full of otherworldly serenity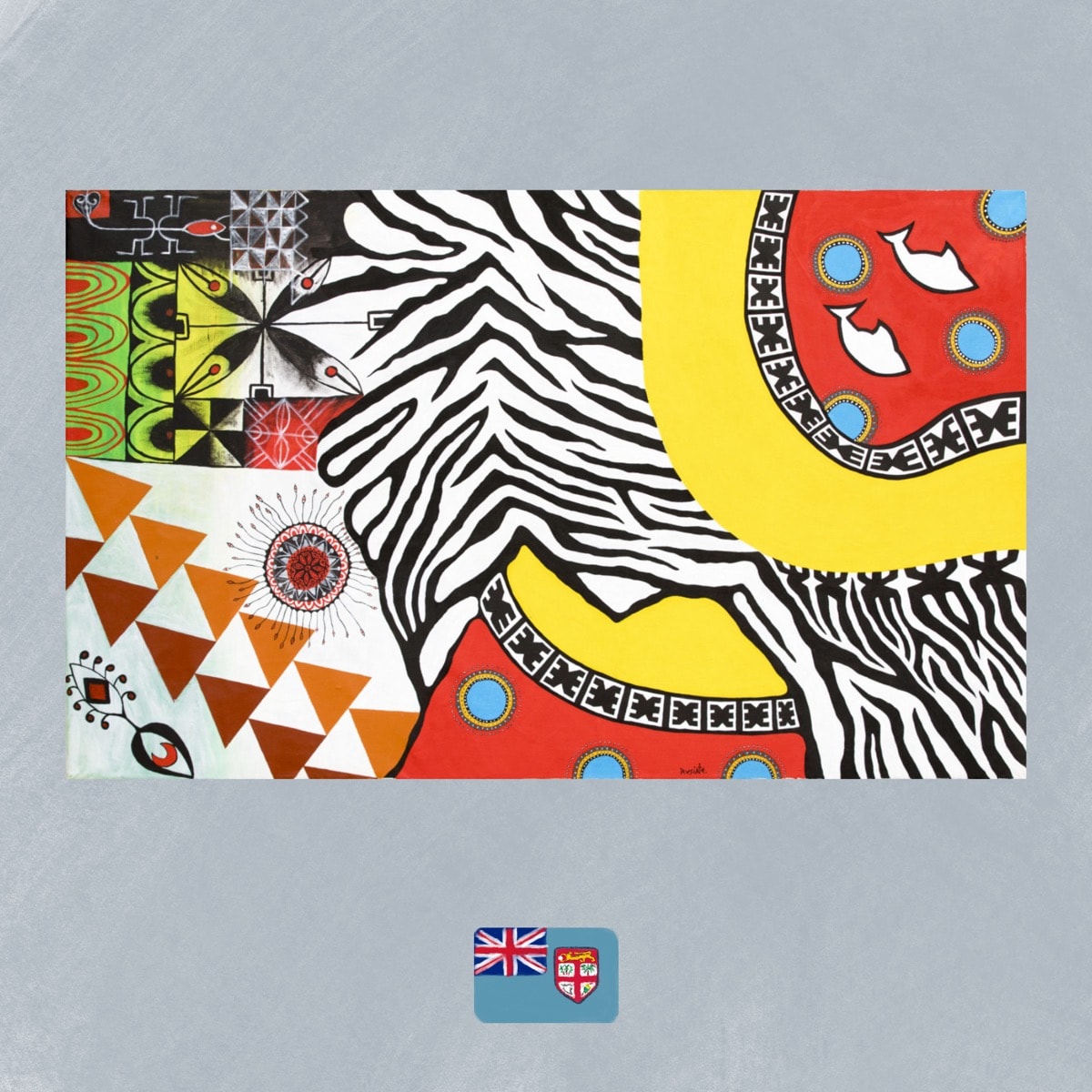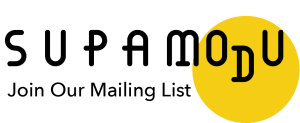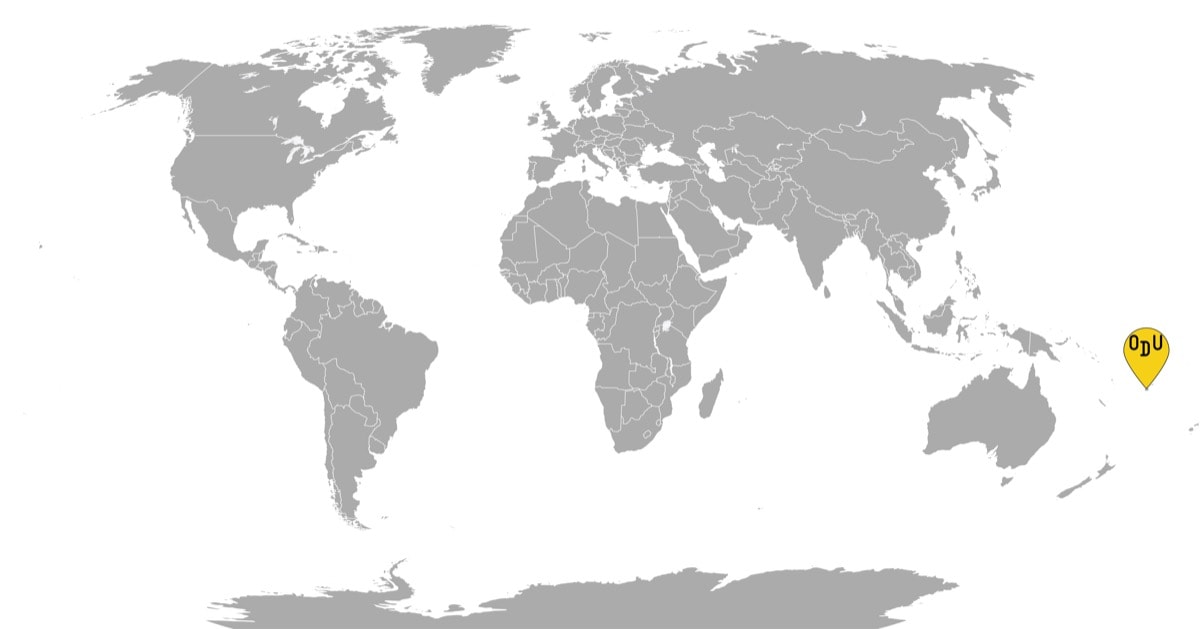 WHAT'S GOING ON: Majestic beasts congregate among the spectacular patterns, mystic patchworks of elements borrowed from the traditional repertoire, and the modernist reexaminations alike. It's not the world to which we're used to, with the sky, land, and water marking the usual borders. Instead, the cosmos that Fijian artist Rusiate Lali imagines is a densely-populated realm where dimensions, proportions, and juxtaposition are reversed concepts. Meanwhile, separate components seem to float freely, in Brownian motion, or by gravitating towards each other to pause for a minute, as Lali's curious mind captures the image to recreate it meticulously, faithfully down to every minute detail. It's a vast world, in which humans, rightfully, occupy a small, insignificant place, and yet creatures, recognizable and hybrid, are at the center, large, distinguished, complex. Sometimes they pass familiar elements, such as a faint, weakly sun, but mostly defy any semblance with the earth, wading through the galaxy, and emerging in a metaphor of our world, where the valiant beasts of nature must go against the behemoths of greed.
WHO MADE IT: Rusiate Lali comes from a family of artisans and artists, who had worked with pottery, native woods, and fibers, the most prominent of them, his grandmother Taraivin Wati, well known for her Raku pottery. In fact, Wati is such a seminal artist in her homeland that her work is also on Fiji's one-dollar coin. In addition to the strong influence of his grandmother, Lali also learned from Western modernist artists (he even named his son Pablo after Picasso) and Australian masters. Early in his career, Lali studied under the great Niue/New Zealand painter John Pule and along with the other students formed the artistic group, Red Wave Collective. After receiving the title of "Fijian Contemporary Artist of the Year" in 1999, Lali was signed by Gallery Gondwana in Alice Springs, in the Northern Territories of Australia and shortly moved to the larger country. There, he had the privilege to work under the legendary Aboriginal artist Dorothy Napangardi: a fellow enthusiast of informing contemporary sensibility with tribal origins, Napangardi helped Lali define his own aesthetic. He had since returned to Fiji.
WHY DO WE CARE: Lali's works, even though removed from the scope of worldly associations, resemble the positioning of Melanesia within the South Pacific: vast bodies of saltwater where no humans roam only the many dazzling species of fish prowl. This vision of a world submerged, while not far removed from reality for an island nation, is a dystopian future for many continental dwellers—what better way to explore this than the musings of an artist who hails from an archipelago. Here the name of Lali's gallery, Gondwana, adds an added layer of irony, as it's named after on the supercontinents of the past, the splintering of which, among with others, created the landmasses as we know them today, including smaller specks of island nations in addition to the more massive continents. While it's not new to the concept of erosion threats, Fiji, like other island nations the world over, is at the forefront of the battle for ecology, contributing to pollution the least, yet suffering the most, as the residents remain in constant inland movement and observe the destruction of the reefs and the thinning of resources.
Not surprisingly, Lali's works appeared in a group exhibition in London that occurred in conjunction with Fiji's presiding over the UN Climate Change summit in 2017. Some of his works dedicated to his favorite inhabitants of the South Pacific ocean, like sharks, octopi, and eels, were on display, as well as the stark, bright painting called "Vinivo," the dress: a manifesto against corporations and imperial powers coming to Fiji to exploit it for its vast natural resources and wearing it like a garment, once fashionable but easily forgotten and discarded then.
WHY YOU NEED TO PAY ATTENTION: Rusiate Lali is a unique artist who blends a very contemporary understanding of art and its implications with a reverence for traditional creative practice and storytelling. Upon close inspection, anyone familiar with the art of Melanesia will recognize the patterns often encountered on tapa cloths in Lali's works. Tapa textile, the culture's most prominent art form, is created as fabric made from tree bark is dyed, smoked, drawn on or stenciled, and then made into clothes, mostly ceremonial nowadays, or artworks. It is indeed something that artisans in Lali's family specialized in, and his works he often reinterprets those familiar threads. To further close the circle, his art had been adapted into garments for fashion shows in the UK and Australia. 
But it's not merely the connection to the work of those who came before him that firmly grounds Lali in the Fijian soil. He is also always interested in communicating with the ancestors, and reprocessing the local folklore in his paintings, while also keeping them consistent with his own vision, which he carefully documents through small personal notes within the canvas, through inside jokes and centering the artworks around things near and dear to his heart. Because as someone coming from a tradition of unity with the natural world, Lali understands the artist's responsibility to the surrounding environment and works tirelessly to reach this equilibrium between peace and struggle for something better. It seems that he's been able to accomplish that in his own life, too, as his island practice blends work with healthy, wholesome relaxation. 
We could all use the oceanside calmness in our lives today. And there is no better way to find it than to submerge oneself into the underwater trenches of Rusiate Lali's paintings, where fantasy and reality intermingle, sometimes precariously, sometimes peacefully, and the deep wisdom of the ocean whispers the saving truth about the future. A consciously minded artist who carries the experience and knowledge of many generations that came before him, Rusiate Lali introduces an exciting freshness to his heritage. At the same time, he effortlessly puts the world's oceans on the map of fine art, hoping that the attached value will help the audience see something that his people had understood long ago. The highest art form, yet unattained by humanity, is that of unity with nature.
For more content like this sign up for our weekly newsletter