How an art enthusiast helped us uncover a tremendous love story behind a striking self-portrait from Georgetown's National Gallery of Art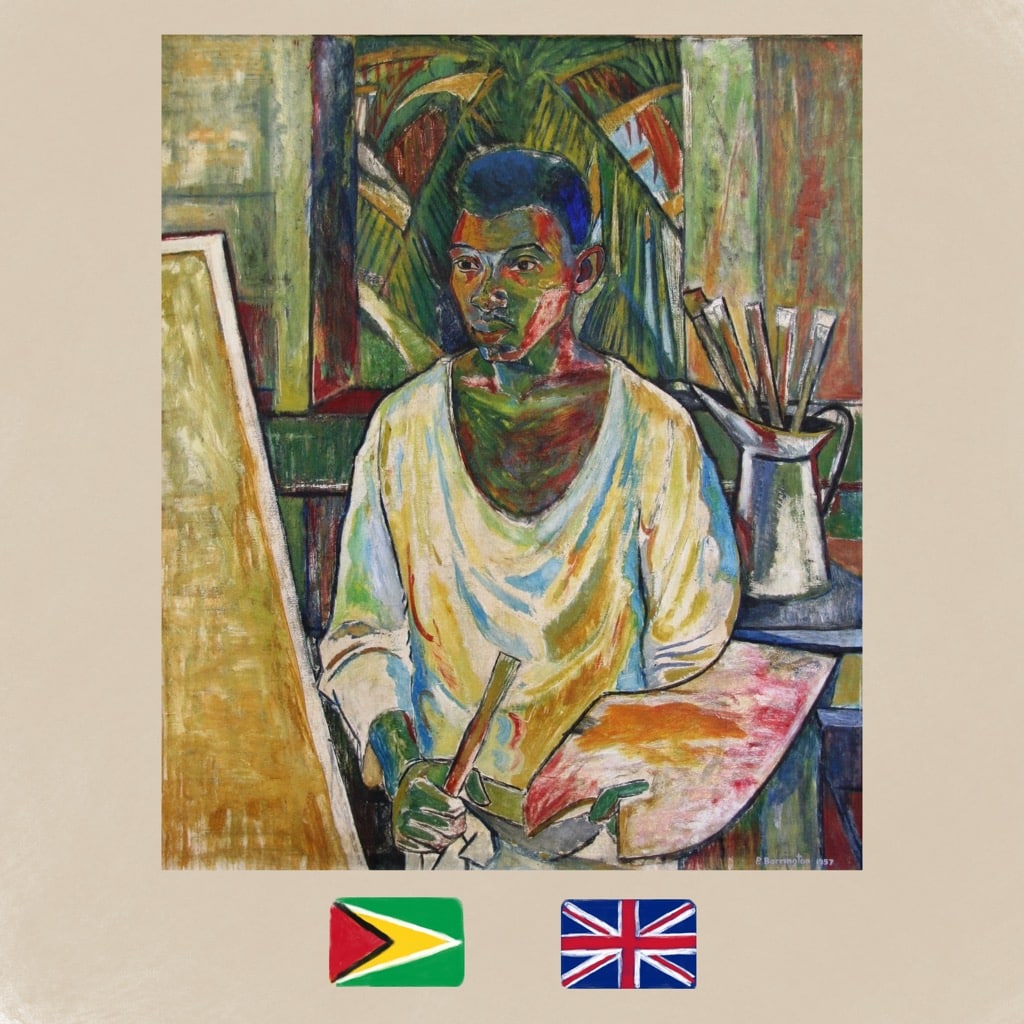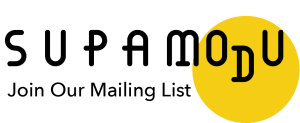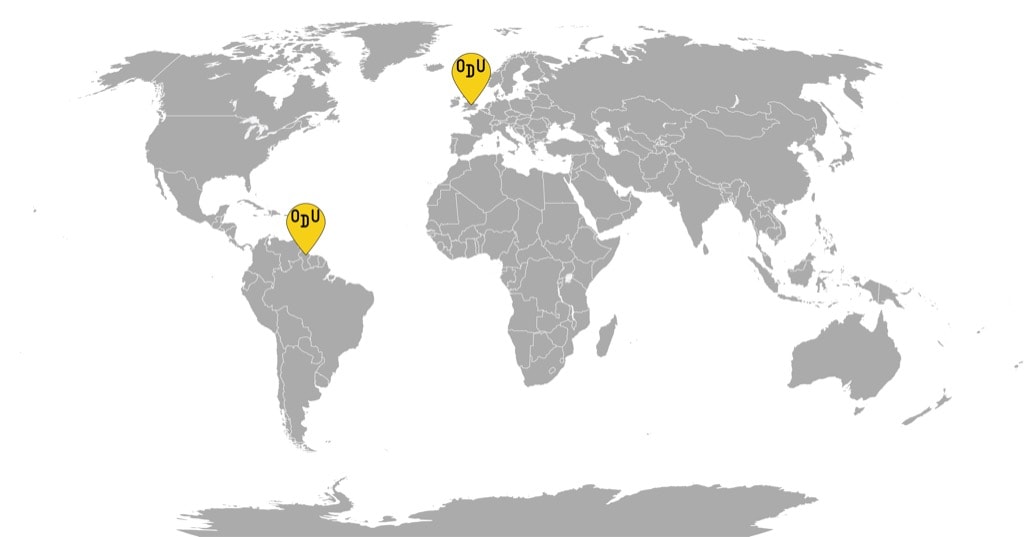 WHAT'S GOING ON: When it comes to countries lesser known for their creative output, Supamodu can become an uncharted territory. So we set out to research and try to find a constellation in the crumbs. Back in 2018, it was the turn of Guyanese art, and as I made my inquiry, I was drawn to a fabulous painting by an artist called Patrick Barrington. It was a self-portrait, made by the artist when he was 26, and it immediately reminded me of Picasso. A Guyanese publication on art alleged that Barrington could not have known about Picasso in 1957, a claim that seemed unlikely to me. But I knew nothing about art education in Guyana in the 50s (or today, for that matter), so I set out to find more about Barrington. But as much as I looked, I couldn't find information on him, nor was I able to track down more of his paintings. The artist left his native Guyana for London soon after finishing the piece, to study to become an electrical engineer there. But it was not clear whether he continued his artistic career or not. So I decided to share the beautiful painting with the Supamodu audience, much more modest at the time, added everything I knew in the caption, and forgot about it for a while. 
And then, in late 2019, I received an email from a woman called Angela Loughran in the UK who encountered the short article while talking to Patrick Barrington at a day center in London. The 88-year old was spinning wheels on a stationary bike and wanted to show his self-portrait to acquaintances. As Angela googled, she stumbled upon our article. Simultaneously, Barrington started telling her about himself. It turned out that he did continue his art career, and had quite a life along with it. Charmed by Patrick and willing to help in uncovering a cultural enigma, Angela, who is an avid art-lover, wrote to me and kindly offered to visit Patrick at his home. And before the COVID-19 pandemic struck, she was able to come over for tea, find out more about his life and take pictures of his other artworks, as well as Patrick himself.
WHO MADE IT: With the help of Angela, who typed away as she was listening to Patrick recount his eventful life, Barrington's biography came together.
As a young artist, he spent hours at the library, where he read up on the world's artists. John Constable, William Hogarth, and Rubens were among the masters he admired most, but he also learned from Jasper Johns, a rising star of Neo-Dadaism. And of course, Barrington confessed to having worshipped at the throne of Picasso. In his practice as a young artist, he often painted landscapes in Georgetown's botanical gardens, with a small crowd gathering around him every time, and sold his artwork to tourists.
Barrington left for London in 1960 on an 11-day journey on a French ship Colombie. Waiting for him near Piccadilly was scholarship at Byam Shaw School of Art, which was later absorbed into Central St. Martins. As an established artist, Barrington didn't require too much training, but he took advantage of the ability to make connections in the British art world during his studies. He later benefitted from Guyana's sugar industry's fellowships, which allowed him to come back to a residency in Georgetown and paint. Although he then made his permanent home in Battersea in South London, Barrington has remained a part of Guyanese cultural heritage. His self-portrait now hangs at Castellani House, one of Georgetown's most beautiful structures by the Maltese architect Cesar Castellani, which served as government official residences during the colonial era and after the independence, and was converted into the new home for the National Art Gallery in 1993. The current curator, Elfrieda Bissember, invited Barrington over and introduced him to contemporary artists working out of Georgetown.
However, it turned out that Barrington's creativity did not stop at painting.
WHY DO WE CARE: Guyana is often underappreciated, brought up as a reference point in conversations, when allusions are made to the Jonestown massacre and the rest of CIA's meddling in the country, and nothing else. It's crucial that we pay attention to the country's own heritage—and there's no better place to start than Barrington's legacy. After all, he repurposed the essential ideas of 20th-century art and made them his own, and Guyana's own, by recreating the familiar world in his erudite, emotive, and exceptionally diverse artworks. In my initial post, I wrote about Barrington's self-portrait: "What I love about it is the inversion and the reclaiming: while clearly similar to Picasso's famous portraits, it shows a black man. Picasso was hugely inspired by African art when he was pursuing his signature cubist style of rendering figures and space. What matters is that a black man in a Caribbean country, a descendant of African slaves, made a portrait that so closely resembles portraits by a Spanish man who was inspired by African art while living in Paris. This is what world art is truly about: connections. Some missed, some linked, some accidental, some on purpose." Little did I know that the connections would prove to be way more profound than I had expected. As Angela got to know Barrington better, and he shared his fascinating biography with her, it turned out that Barrington's life was linked to the history of his homeland and the world's political developments in ways neither of us could predict. 
WHY YOU NEED TO PAY ATTENTION: Nothing makes an exemplary artist stand out more as a symbol of his country's cultural development, as when his life is intertwined with some of the country's most prominent events. And even though Patrick Barrington left rather young, Guyana kept following him, and an encounter with a woman as illustrious as himself positioned him right in the axis of the political events not only in Guayana but the world. In the early 1960s, when Barrington was an art student and renting a room from Guyanese acquaintances, he met Hanna Greenwood, an Austrian woman who knew some parts of Guyana more intimately than he did and was even making attempts to imitate the Guyanese dialect.
Hanna was older than him by a decade and had quite an illustrious life before meeting Patrick. Narrowly escaping capture by the Nazis in Vienna, she fled to London, where she remained a fierce communist activist while working as a bus conductor (to get fired for not charging the military) and an RAF truck driver (despite being a tiny lady). In the 1950s, Hanna traveled to Guyana, where progressive politician Cheddi Jagan—referred to as the father of the Guyanese nation—was ascending to power. Hanna stayed with Jagan and his wife Janet, an American, became her hosts. Ousted from power by the M-15 coup d'etat, Jagan finally served as president of the country for two terms in the nineties, while Hanna and the Jagans remained lifelong friends.
As Hanna and Patrick fell in love and courted each other during fiery stints on London's dancefloors, the political and the cultural avant-garde of the small Caribbean nation became entangled. And while the pair never returned to Guyana for good—the Western interventions in the country's social and political life had been rigorous for most of their lives—the two built quite a life for themselves out of Battersea. The couple ran a wine bar called the Corkscrew: a riotous venue, the memory of which is passed on by locals still, even though it's been closed since the 90s. The bar was full of cats, had low prices and encouraged merriment, with the proprietress herself dancing on tables well into her seventies. A striking tribute to Hanna by her friend even features an anecdote of the time Hanna kicked out the duchess Sarah Ferguson for being unruly. After the couple retired from running the wine bar, they kept on their social and political commitments. Endangered lodgers seeking help through the clandestine queer helpline Gay Switchboard could always rely on the Barringtons for a couch to crash on or a room in their beautiful house to rent.
In June 2019, Hanna died, aged 101, and left Patrick alone to deal with their colorful heritage. Another obituary to Hanna—who was known by her friends as "Empress of Habsburg"—alleges that her legacy is unlikely to be preserved in Guyana because most of the people Hanna had worked alongside towards a free, progressive Guyana, had long passed away.
But this is why we have Supamodu: to piece together the cultural and social heritage of every country, so that those who hail from it, wish to rediscover their lost home in it, or simply get a bit curious, could find out everything about it.
The next time you hear someone mention Guyana, make sure that the narrative is reclaimed. Instead of milling over the suspicious Kool-Aid suicides and the bullet holes, tell them about a couple of people who got together because of their love for Guyana, and who had influenced so much of the country's political and cultural landscape. Tell them about the radiant Hanna and her widower Patrick, whose talent, intelligence, and incomparable eye for color and detail made him the lesser-known but resilient leading figure of Guyanese modernism.
Supamodu is very grateful to Angela Loughran for reaching out to us, interviewing Patrick Barrington, taking the photographs of him and his work, and making this material possible.