Family memories, heart-wrenching puppets, thrilling technological advancements and a lot of dark, delicious humor from the world's finest animators, including two Oscars nominees
All these films scored top prizes at France's prestigious Annecy Animation Festival in 2019, and now they're coming to a big screen in New York City at 9:45 PM Friday the 7th of February as part of the Animation First 2020 festival. For more information, schedule, and tickets, see the FIAF website.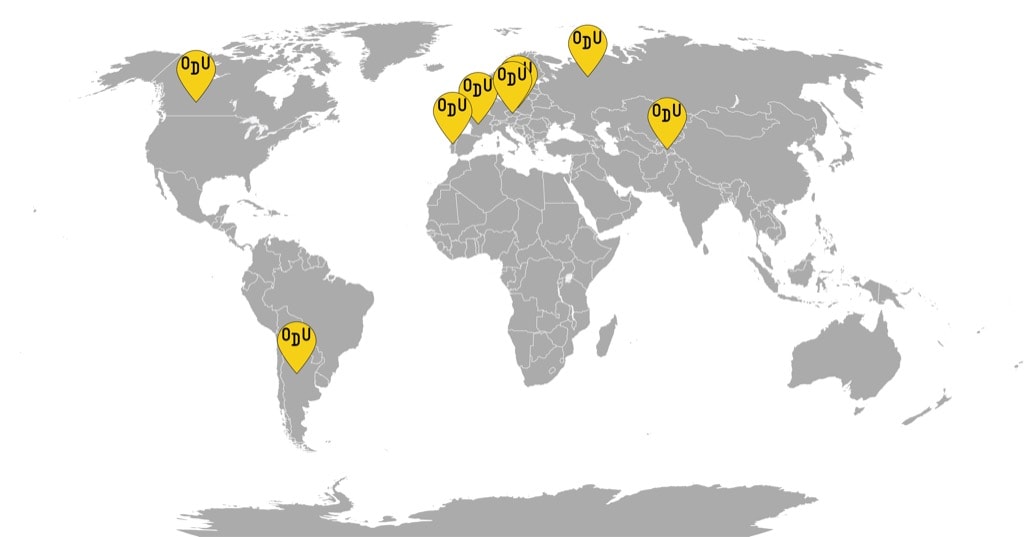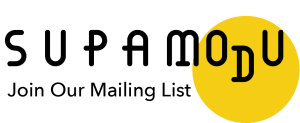 "Daughter", dir. Daria Kashcheeva, 2019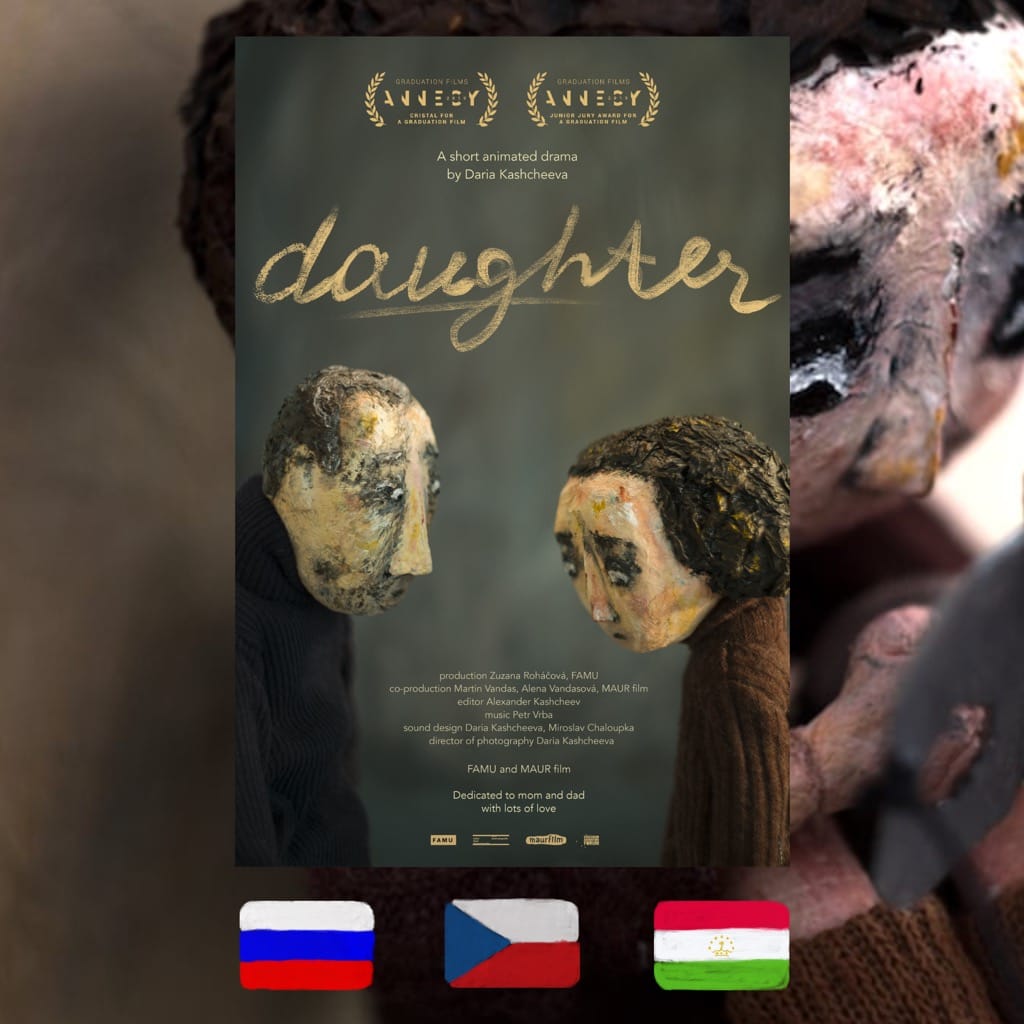 WHAT IT'S ABOUT: A daughter tends to her father on his deathbed, while thinking back to the times he hurt her feelings: can the two break the barrier of repressed emotion before it's too late?
WHO MADE IT: Born in Tajikistan, Daria Kascheeva moved to Russia with her family during the civil war. A sound engineer by profession, she became interested in animation and moved to the Czech Republic to study it. She made "Daughter" as her graduation project from FAMU, Prague's legendary film school, which includes Vêra Chytilová and Miloš Forman among its graduates. Her husband and frequent collaborator Alexander Kashcheev, an actor-turned-editor and a dedicated extended team helped realize this stop-motion puppet animation, which is nominated for the 2020 Oscar's animation short.
WHY YOU NEED TO WATCH: "Daughter" is an exploration of a relationship between a girl and her dad that is rich with generational misunderstandings, childhood malleability, and heartbreaking tenderness. When the death of a loved one approaches, a shared is history is put to the scrutiny, and past wounds may not stand the test of time. Using mesmerizing papier-mache puppets and an elaborate stop-motion technique that she painstakingly perfected, Kascheeva created a universally appealing and absolutely devastating animation that stays with you long after the end credits roll.
Daughter (Dcera), 2019
Available on Vimeo 
"Drive", dir. Pedro Casavecchia, 2019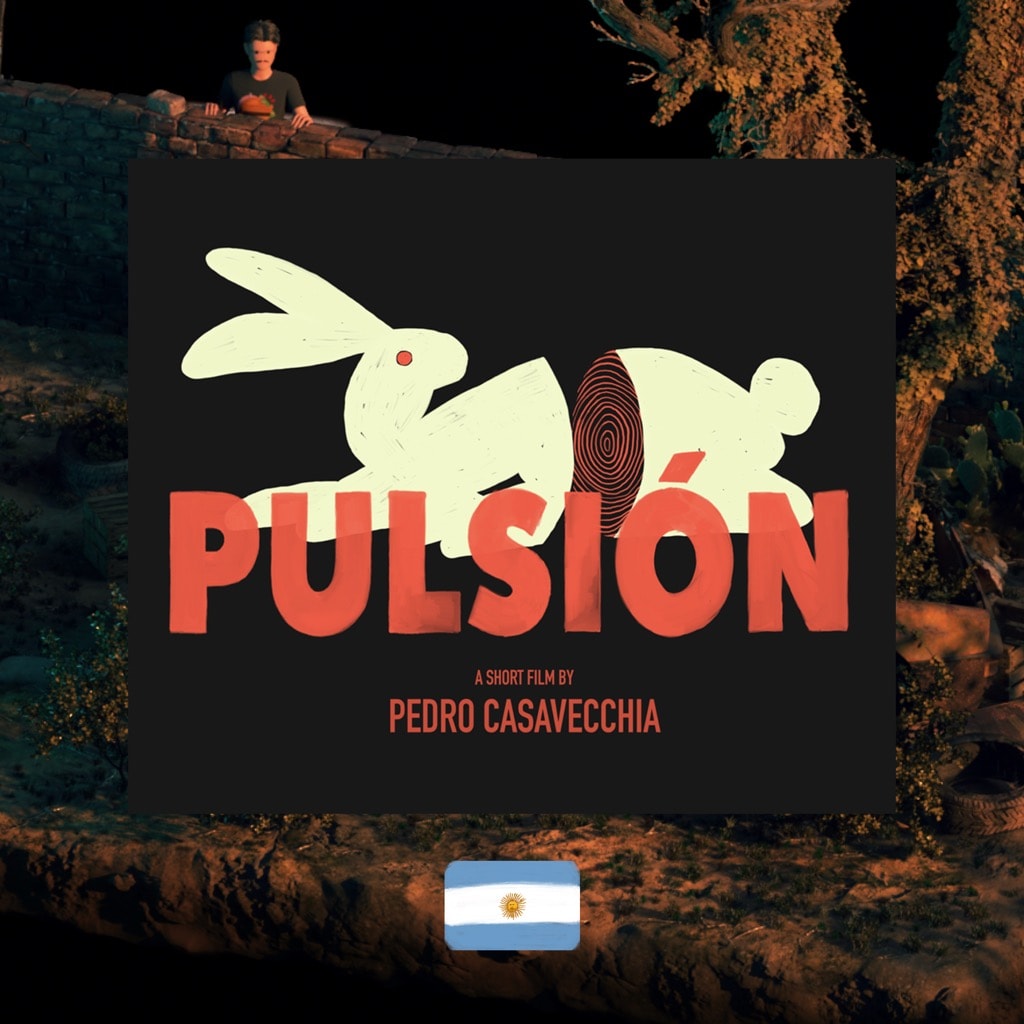 WHAT IT'S ABOUT: A child grows up with abusive, alcoholic parents in an isolated environment. A trigger encountered in adulthood sets him off on a violent path.
WHO MADE IT: Originally from Argentina, Pedro Casavecchia currently lives in London, where he works in creating visual environments for large studio projects. Among his works are "Alita: Battle Angel," "Avengers: Infinity War," "Thor: Ragnarok" and "Fantastic Beast and Where to Find Them." "Drive" is Casavecchia's debut as director and writer, which he almost single-handedly produced, claiming a budget of just $10. It brought him the Jury prize for "powerful storytelling."
WHY YOU NEED TO WATCH: Visually "Drive" looks like scenes from the Sims universe rendered in stop-motion, although the whole animated film was created digitally. But the black blind spots that surround the scenes add to the atmosphere of isolation, which, along with the unsettling ambient sounds, creates a visceral setting to the protagonist's unraveling. An alcoholic father's early death, mother's abuse, a fascination with sex and death, all come together in a Lynchian retelling of "Psycho" through stunning, grisly vignettes.
Drive (Pulsión), 2019
"Uncle Thomas: Accounting for the Days," dir. Regina Pessoa, 2018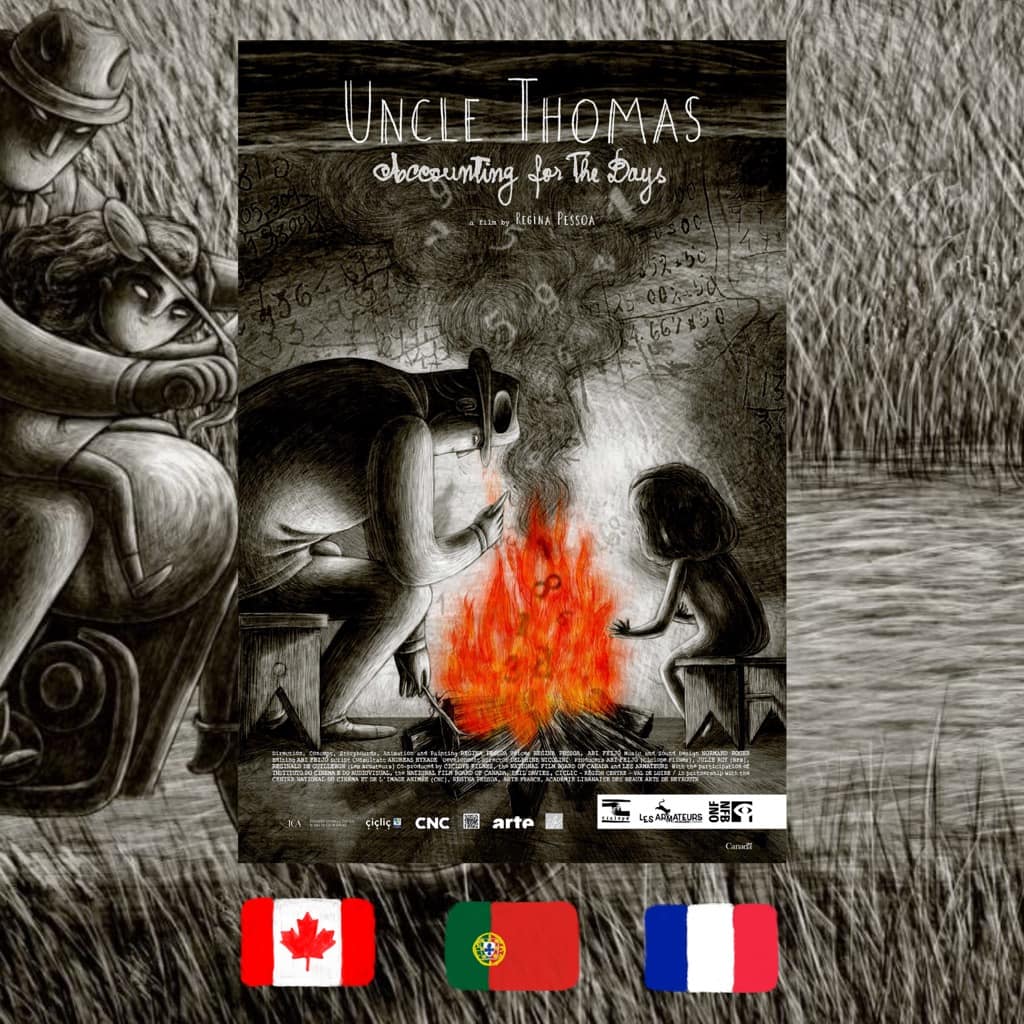 WHAT IT'S ABOUT: The creator pays tribute to her late uncle, whose life, full of numbers, letters to nowhere, and drawings became her biggest inspiration growing up.
WHO MADE IT: Portuguese animator Regina Pessoa grew up in a small village in the center of the country, where she didn't have access to a TV but learned drawing from her uncle—the eponymous Thomas. Her childhood informs Pessoa's works, and she rose to prominence with "Tragic Story with Happy Ending," one of the most acclaimed animated films to come out of the country, about a girl whose heart beats so loud it keeps neighbors awake at night. It was followed by "Kali the Little Vampire" about a bloodsucking boy who seeks to belong, and "Uncle Thomas" is the third installation in the trilogy, made together with her partner and collaborator Abi Feijo. It won the Jury Prize at Annecy.
WHY YOU NEED TO WATCH: Eccentric relatives make for the best film protagonists, and Uncle Thomas, who filled young Pessoa's life with curious rituals and exercises in imagination, is no exception. Explored in her signature charcoal, which Pessoa inherited from Thomas, the film spirals around memories and recollections, while exploding into the pulsating reds of poppies or bonfires. "Uncle Thomas: Accounting for the Days" is a lyrical, yet foreboding look into an artistic childhood, and a loving niece's tribute to the ordinary small-town uncle who was, it turns out, absolutely extraordinary.
Uncle Thomas: Accounting for the Days (Tio Tomás, A Contabilidade Dos Dias), 2018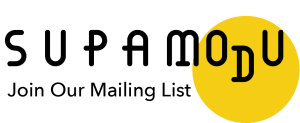 "Maestro", dir. Illogic, 2019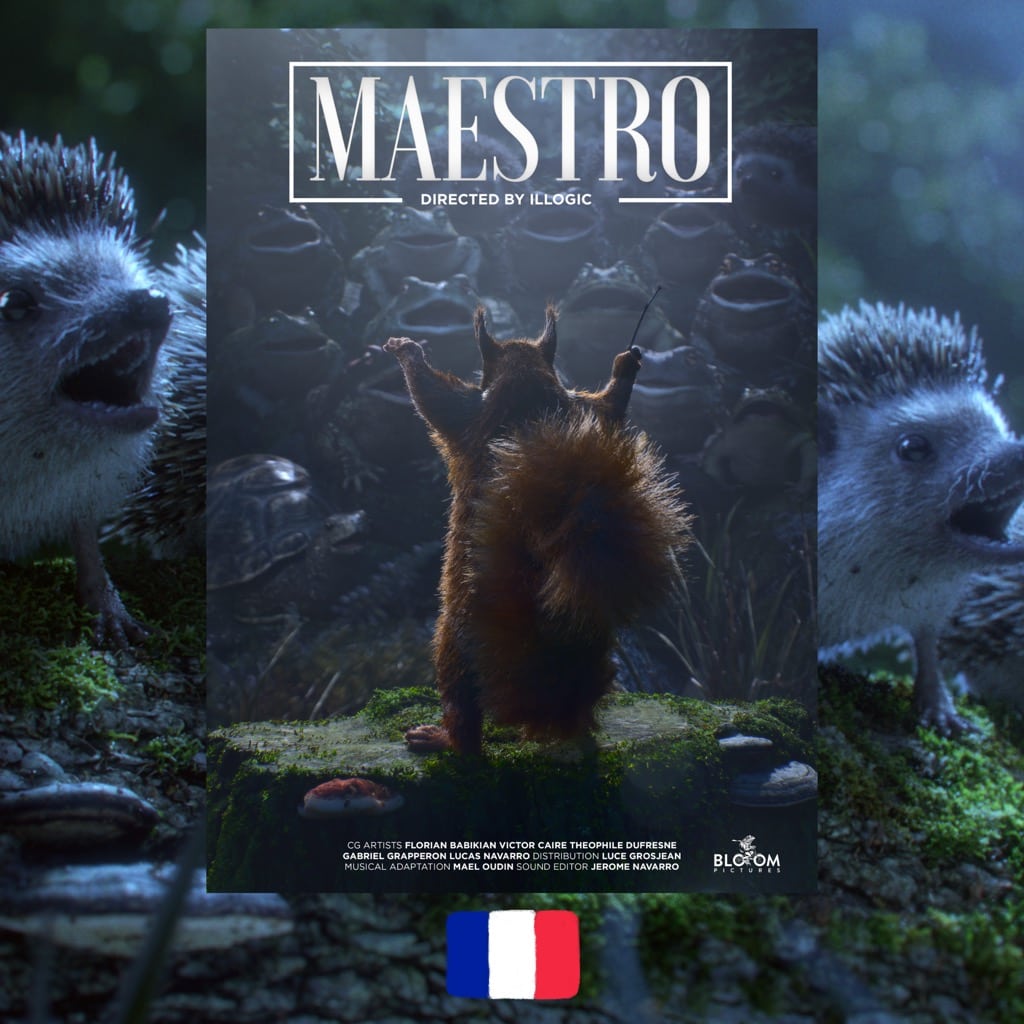 WHAT IT'S ABOUT: A night at the opera like you'd never seen it before: with forest creatures of land, sky and water in charge of the vocals and instruments, and a feisty squirrel as the conductor.
WHO MADE IT: Florian Babikian, Vincent Bayoux, Victor Caire, Théophile Dufresne, Gabriel Grapperon, and Lucas Navarro formed Illogic when studying at the animation school MOPA. Their first breakout work was the graduation project "Garden Party," which involved amphibians taking advantage of a bleak human situation. In "Maestro," made in the collective's brand-new Montpellier studio "Bloom Pictures," the group continued exploring the possibilities of the animal kingdom.
WHY YOU NEED TO WATCH: Exceptionally beautifully, but also delightfully funny and even a little creepy, "Maestro" serves to reinstate the simple fact: humans invented animation so that we could see animals do things they won't do when we're watching them in real life. Borrowing from Disney's nature symphonies that are now almost a century old as well as the equally vintage "Rhapsody Rabbit" and "The Cat Concerto", Illogic uses the newest technological advancements to show mind-blowingly real-looking reptiles, birds, hedgehogs, and even fish perform a fierce opera from Bellini's "Norma." 
Maestro, 2019
"Mémorable", dir. Bruno Collet, 2019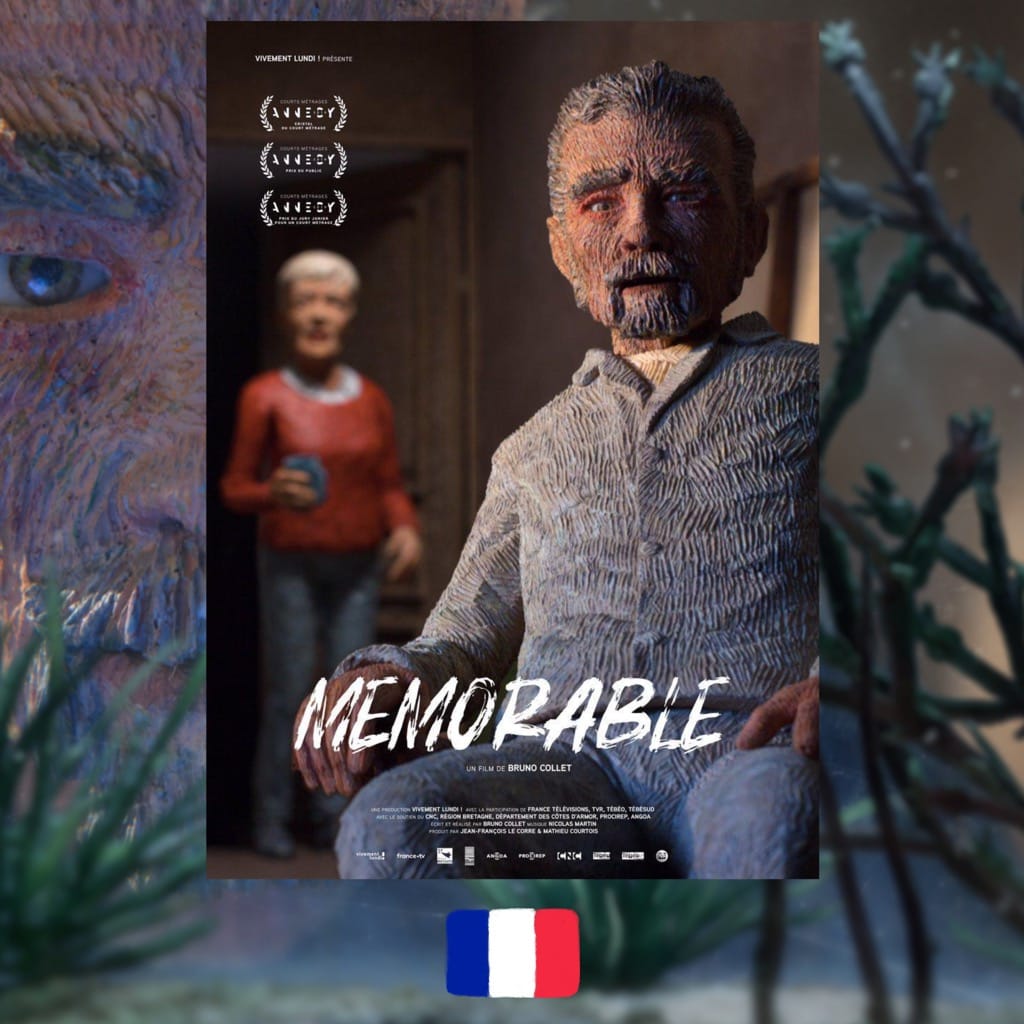 WHAT IT'S ABOUT: Louis, a visual artist, struggles with a neurodegenerative disease, while his wife and muse Michelle has to come to terms with being a stranger to him. Will they have at least one moment of intimacy before the light goes out for good?
WHO MADE IT: A Bretagne-native, Bruno Collet attended the Beaux-Arts academy in the region's capital Rennes. After making his debut with "Le Dos au Mur," which brought him an award at the Cannes film festival, he has written and directed numerous animated shorts over the last two decades, including ones covering delightful resurrections of Robert Mitchum and Bruce Lee. "Mémorable" has gathered over 30 awards worldwide, including the best short and the audience award at Annecy, and is currently contending for the 2020 Oscar. Louis is voiced by André Wilms, who played Marcel in Aki Kaurismäki's "Le Havre", and Michelle by Domonique Raymond.
WHY YOU NEED TO WATCH: Inspired by the story of William Utermohlen, an American artist who painted self-portraits as his Alzheimer's progressed, "Mémorable" plays around with various visual arts techniques to show the way the disease shapes the protagonist's outlook. The doctor is a Giacometti-like sculpture, objects he can't identify melt into blobs of paint, and relatives he can no longer recognize are distorted like cubist portraits. And yet, his wife's beauty beckons through it all, even if he doesn't exactly know her anymore. A gut-punch of a film, "Mémorable," offers an original take on one of the contemporary world's most pressing issues by bridging the mind's unconscious with humanmade abstractions.
Mémorable, 2019
"Rain", dir. Piotr Milczarek, 2019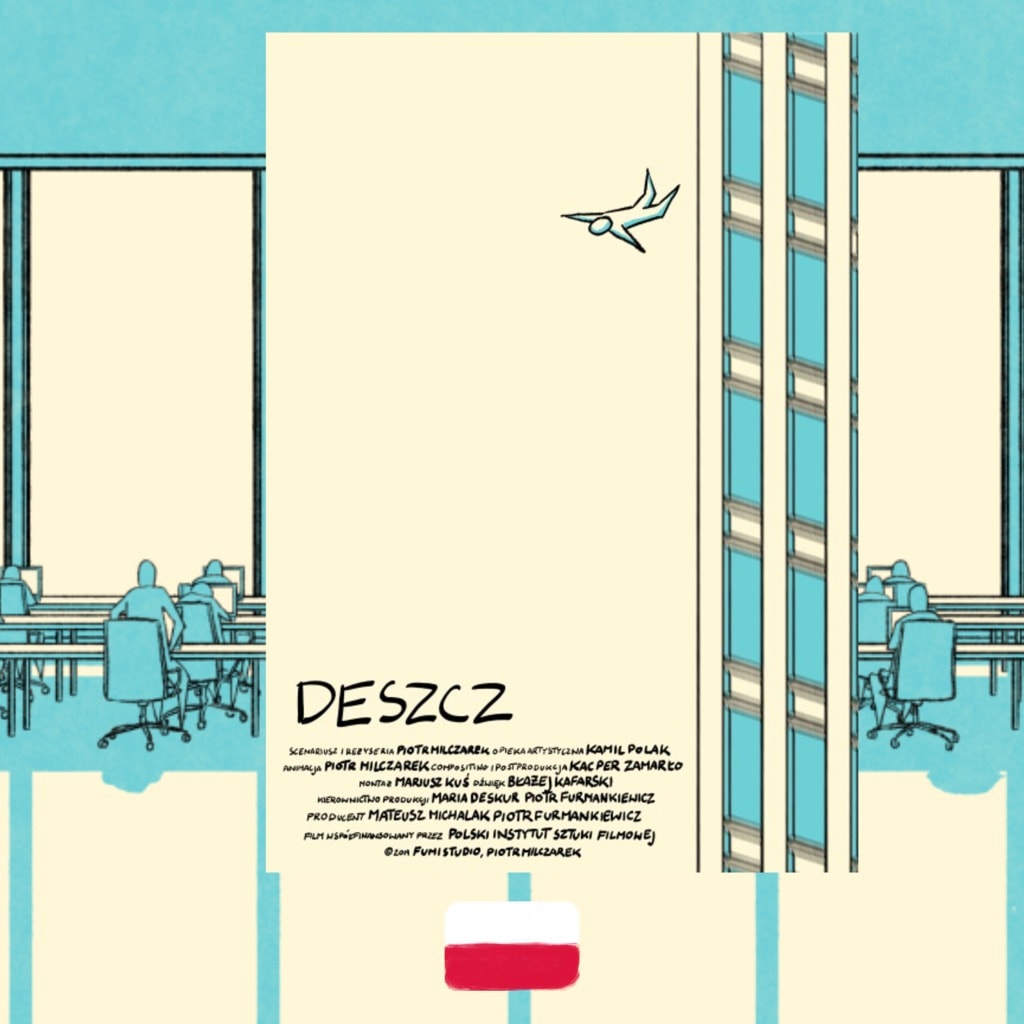 WHAT IT'S ABOUT: When a crime is committed on the roof of an office tower, one of the workers has to don their superhero cape and come to the rescue. Unfortunately, people can't have nice things.
WHO MADE IT: Piotr Milczarek is a filmmaker from Łódź, Poland. A graduate of the local film school, which is also the alma-mater of Krzystof Kieślowski, Andrzej Wajda and Roman Polanski, Milczarek currently merges teaching there with multi-tasking on various animated short projects. His most prominent work to date was on Michal Poniedzielski's short film "Moonshine": a bootlegging love story set to Tom Waits's "Way Down in the Hole," for which Milczarek co-wrote the script and provided animation. "Rain" is his directorial debut, for which he won the first film award at Annecy.
WHY YOU NEED TO WATCH: Minimalist 2D animation and a clear narrative style make "Rain" an accessible, utterly funny and deliciously macabre take on the corporate world. Populated with faceless stick figures, whose very poses are full of aspirational fervor, "Rain" opens with an unexpected attack that unravels into an emergency. But when the office drones start abusing one colleague's heroism for the sheer fun of it, "Rain" becomes a gorgeous metaphor for the world at large, where no good deed goes unpunished.
Rain (Deszcz), 2019