There is no topic that those micro sculptors with mad skills can't pencil in: from Baby Yoda to endangered species, from complex engineering to the taboo of menstruation.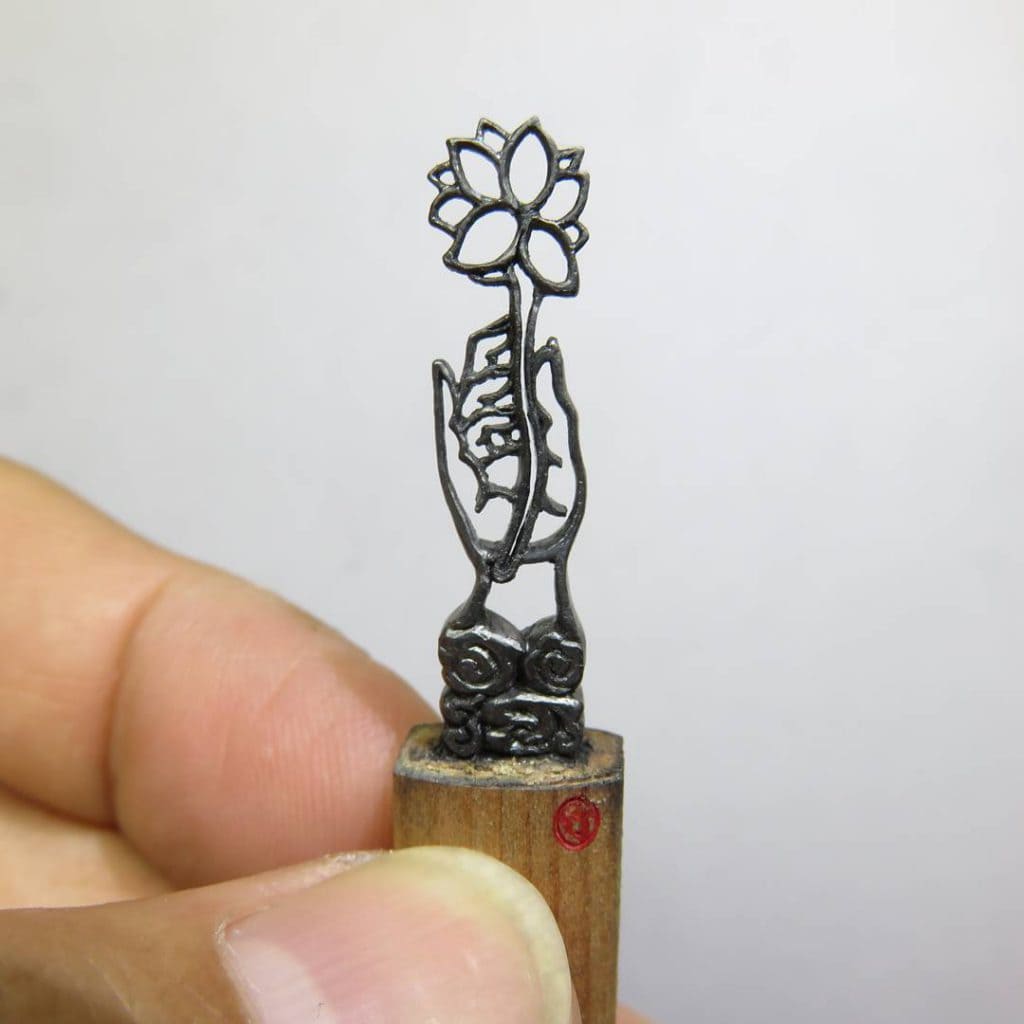 WHAT'S GOING ON: Sculptures are carved out of the sharp tips of wooden pencils and then photographed using a macro-lens. There are the world's most recognizable landmarks, everyday objects, abstract sculptures, pop culture characters, and even lush landscapes, all contained within less than an inch of space. While the beauty of the pieces is beyond doubt, their full effect may not be instant: it takes a minute to sink in that these creations are, in fact, as small as a needle eye and require copious amounts of skill and patience to produce. Lately, the medium has become popularized, and accounts of new artists pop up on Instagram regularly. Meanwhile, giving a gift of laboriously produced art is also gaining in popularity, and tiny capsules containing one's name carved out of a carbon tip go for sale online everywhere, from London to Kolkata. But whenever the media covers this cultural zeitgeist, they usually concentrate on just one artist. We decided to do a survey of the finest pencil-carvers from all over the world to give this complex, demanding, and mindblowing medium the full scope of attention it deserves.
WHY DO WE CARE: Although pencils might be going out of fashion, with digital advancements in drawing, architecture, writing, and other uses for these once-ubiquitous wooden sticks, they remain one of the most iconic objects in our history. There are still books on pencil culturology, quirky stores dedicated to the finest achievements of the pencilmaking industry, and new iterations of the familiar object equipped for the technological advancements, like the Apple Pencil (which, by the way, helps Supamodu draw its little flags). Pencil carving is one of the ways in which the heritage of the revered objects is preserved for current bemusement and future generations. This transfixing medium is both a reflection on the world in its present state and a reclamation of past heritage, when artisans who were able to make the tiniest carvings or moldings on ivory, mother-of-pearl, wooden or metal reliquaries and objects of reverence, were held in the highest esteem.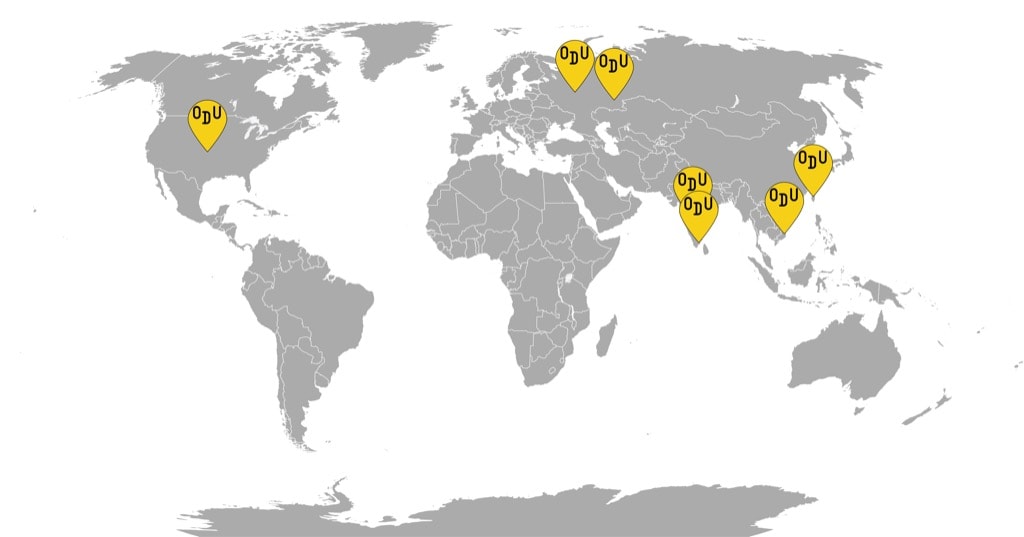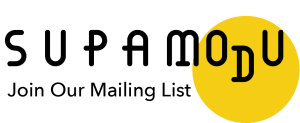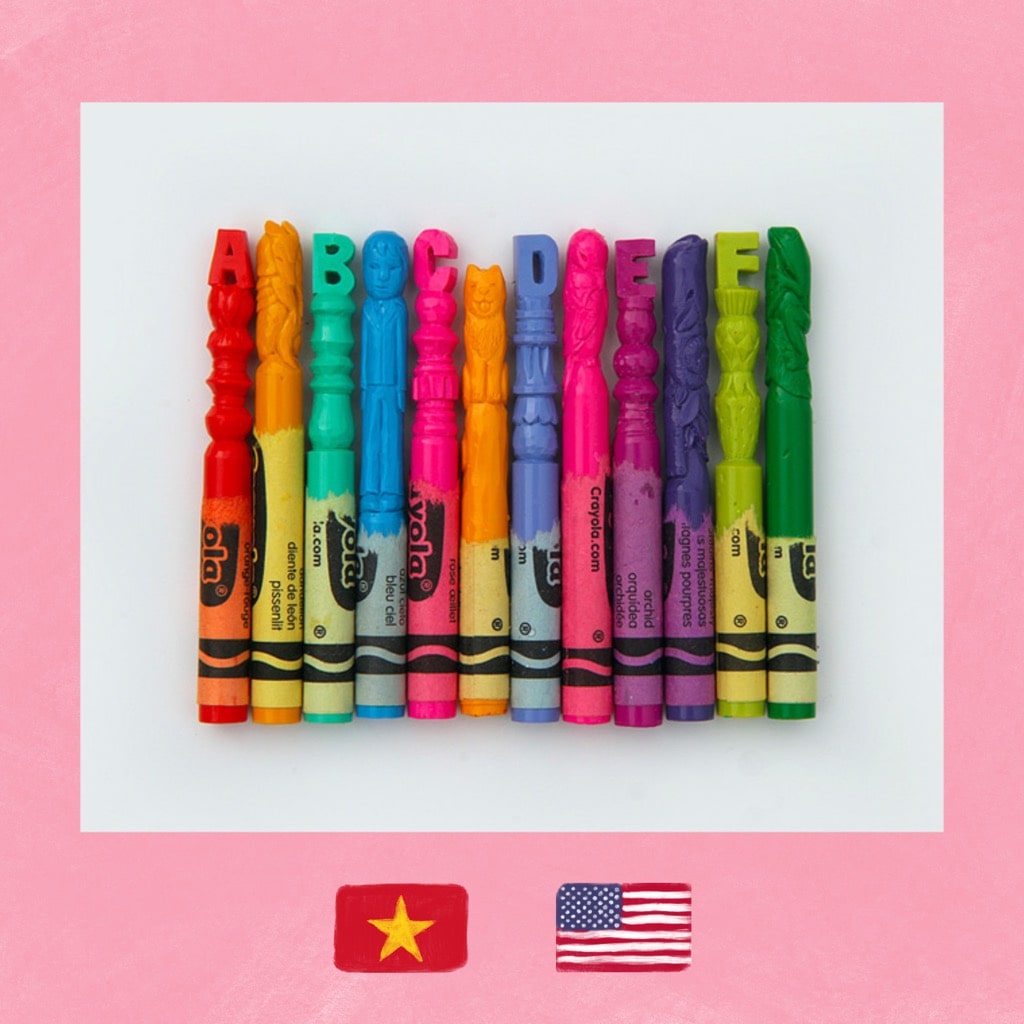 FROM VIETNAM and UNITED STATES
WHO MADE IT: Diem Chau was born in Vietnam but came to the US as a refugee with her family and currently lives and works in Seattle. This identity split informs Chau's work, which occupies a very particular space at the intersection of the migrant experience and stable domestic comforts. Her non-pencil work, which has also gone viral for its fascinating use of materials, merges embroidery with ceramics. This unusual pairing manages to depict both the fragility and the strength of humanity and its bonds.
WHY YOU NEED TO PAY ATTENTION: Unlike the other artists in the series, Chau does not limit herself to the carbon pencils and also creates colorful works from wax crayons. What's created is simultaneously whimsical and monumental, miniature totem-poles appearing out of the recognizable Crayola wrappers. Chau's choice of subject matter adds to that: her biggest crayon project was dedicated to species preservation, where she carved 48 endangered species for the Philadelphia zoo. Chau also made floral sculptures, a special soccer series for the 2010 World Cup, where Didier Drogba, Cristiano Ronaldo, and Robinho, among others, were reimagined in bright paraffin, and various human portraits. At one point, Chau paired with Crayola the company and created large, arm-sized crayons into floral sculptures.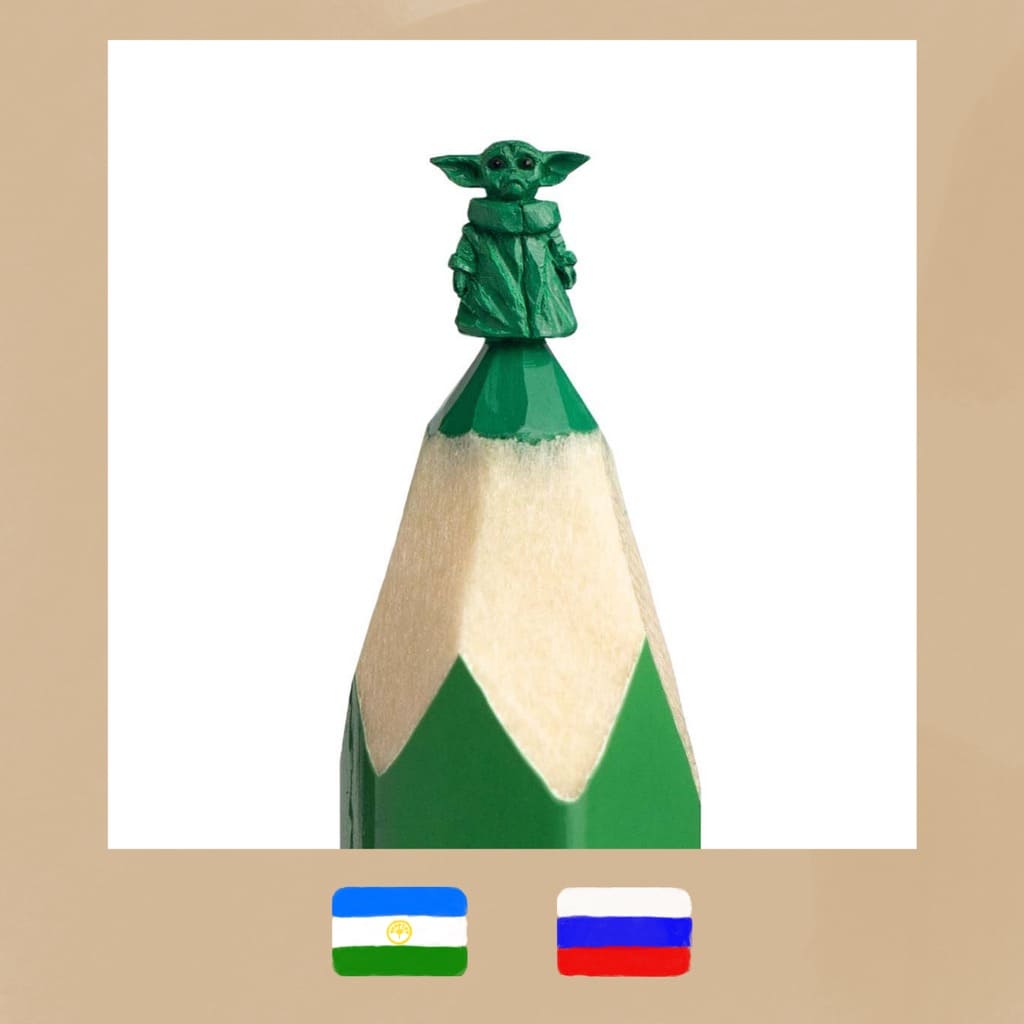 FROM BASHKORTOSTAN and RUSSIA
WHO MADE IT: Salavat Fidai comes from Bashkortostan, a Turkic republic that's currently a part of Russia. A longtime lawyer, after the economic recession that ravaged Russia in 2013, Fidai was laid off and decided to refocus his efforts on his hobby: art. And because he already had an interest in miniatures, the transition was pretty intuitive. This father of three now sells his works to numerous collectors across the planet, participates in exhibitions and treats his fans to mesmerizing carving videos on Instagram & TikTok. Fidai's story is a reassuring one to learn as the world looks forward to a new recession that will be left in the aftermath of the coronavirus.
WHY YOU NEED TO PAY ATTENTION: Fidai rose to prominence with his pencil works based on "Game of Thrones," with miniature renderings of the franchise's houses, Direwolves, White Walkers and, the crown jewel of the collection, the Iron Throne. And today, he remains best known for his viral work, like sculptures based on the Star Wars universe: there is even a green baby Yoda pencil. But that doesn't mean that Fidai is ignoring the real world: his architectural series is impressive, from the Chrysler building to the Burj Khalifa. Occasionally, Fidai dips into Russian & Bashkir culture, and you can find the Kremlin towers, the Russian balalaika, and the Bashkir dombra among his works. In addition to the pencils, he also paints miniatures on matchboxes, nuts, and seeds: whether you're interested in seeing a lilliputian Van Gogh, bite-sized Walter White, and Jar-Jar Binks or even a whole banana carved with Minions, Fidai's your guy.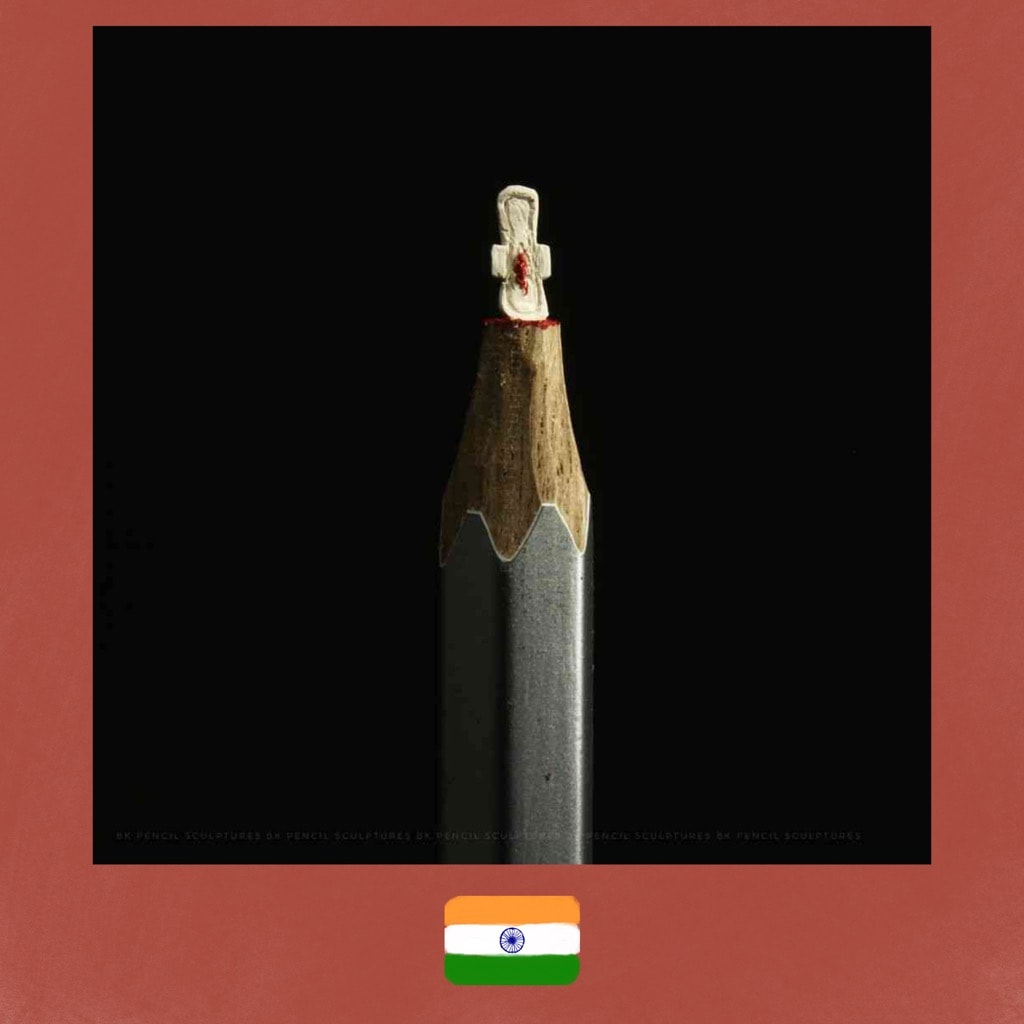 FROM INDIA and TAMIL NADU
WHO MADE IT: Kailash Babu is still in his twenties, but he has already established himself as a promising young pencil sculptor. Inspired by the works of Dalton Ghetti and Salavat Fidai, as well as his father, who created Ganesh sculptures out of glue, Babu set out to bring in his own perspective to the world of lead point carvers. He doesn't stop at pencils and also creates dioramas and various miniatures centered around the theme of the environment. Babu also hosts masterclasses in miniature sculpture, but if you're far from India, settle for his YouTube channel.
WHY YOU NEED TO PAY ATTENTION: As you would expect, Babu's work is informed by his cultural background, and he often reinterprets motives from Tamil Nadu folk art and literature in his miniatures. However, he is also interested in the more earthly concerns of his homeland. He often depicts farmers, as well as their instruments of labor, or interprets the subjects of agriculture and deforestation in his fierce politically-charged pieces. One of the most striking of Babu's works is the miniature depicting a blood-stained period pad: something he created to counter the taboo of menstruation that plagues India. But Babu also lets his hair down from time to time, and it's not beneath him to depict Nicholas Cage's character from "Ghost Rider" in pencil form.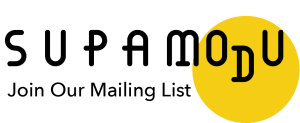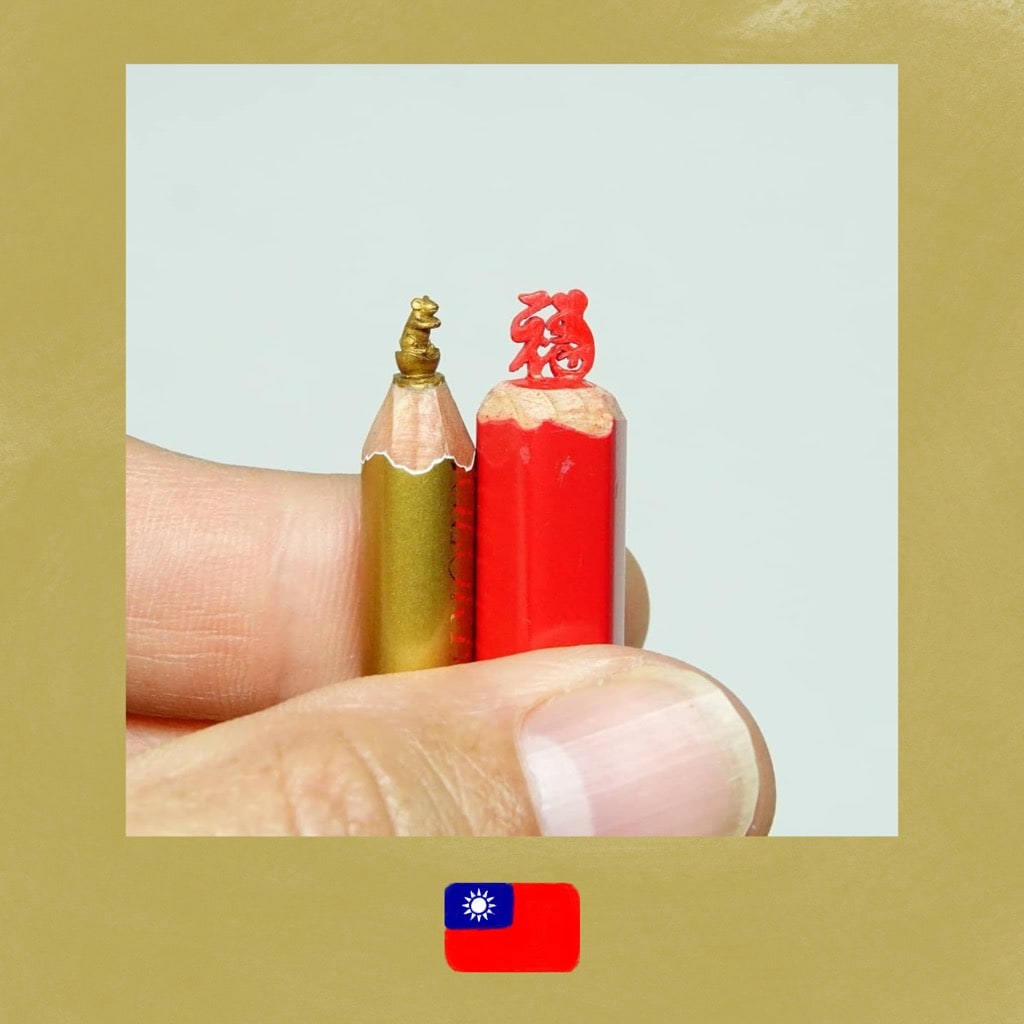 FROM TAIWAN
WHO MADE IT: By day, Lee Chien-chu is an engineer for the notorious petrochemical company Formosa Plastics Group. But in his free time, he engages in a more environmentally-friendly activity, creating pencil artwork out of his living room. Self-taught, Lee began experimenting with miniatures when creating handmade toys for his children, and just couldn't stop zooming out. He first went viral with his carving of the whole Latin alphabet into a pencil's lead and had been keeping the audience on their toes with the way he wields an x-acto knife ever since. Lee runs a YouTube channel along with other social networks and continues to inspire with his interpretive work, as well as regular seasonal offerings.
WHY YOU NEED TO PAY ATTENTION: Lee's one striking difference from the other pencil artists is that he finds a lot of inspiration in his culture, creating Buddhist imagery, as well as a set of mascots for each new Lunar Zodiac year. Like other pencil sculptors, Lee can't resist an architectural challenge: he has recreated some of the world's most recognizable skyscrapers. But he doesn't stop at the vertical and has been recreating some iconic bridges in horizontal works, too. Meticulous and patient, Lee often picks projects that allow him to expand on a theme through many interconnected pencils. For instance, he had carved a whole carbon armory, carried out a census of Disney characters in his work, and even arranged 180 elaborately carved pencil tulips in the shape of a garden.