Abstract art meets unconditional love in an animated film about a dog's history living with humans: a dazzling all-age feature from Romanian auteur and an international team of visual artists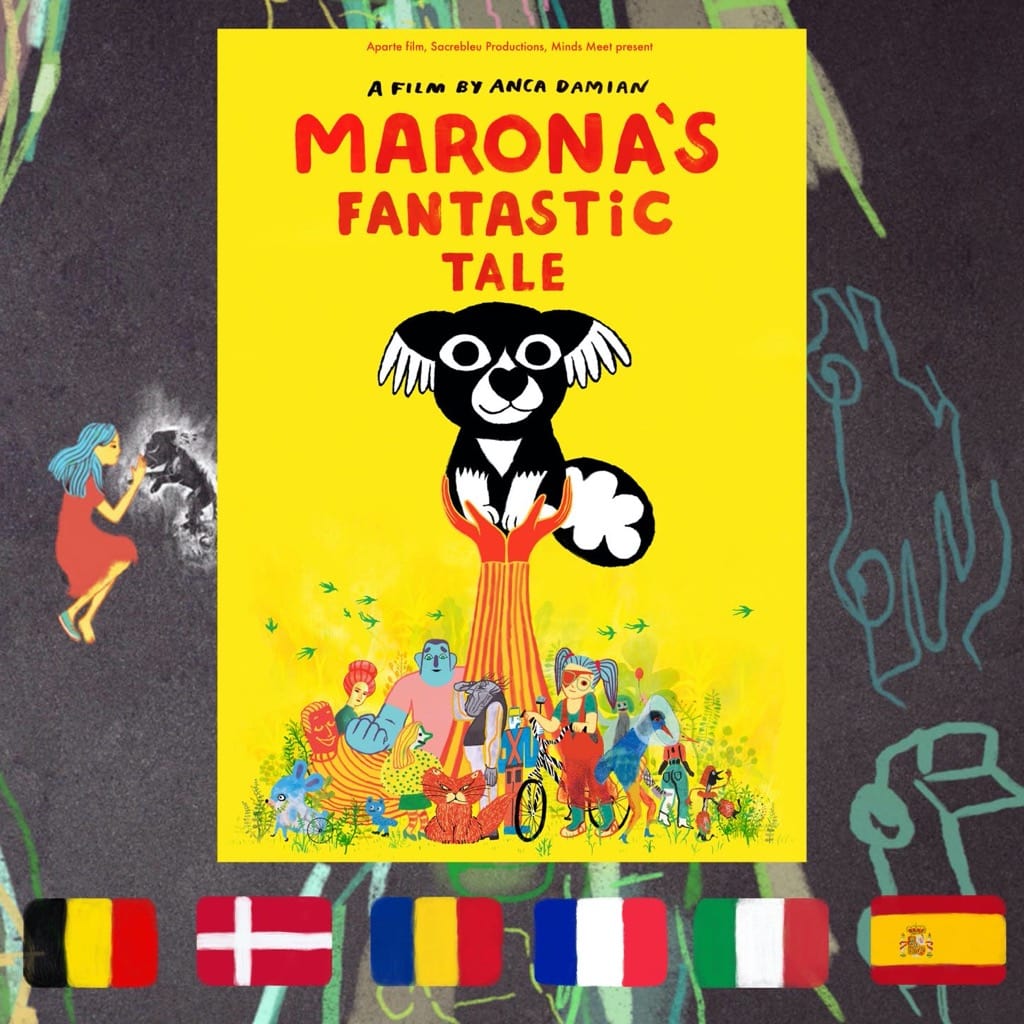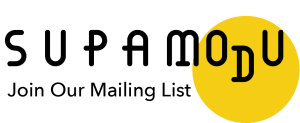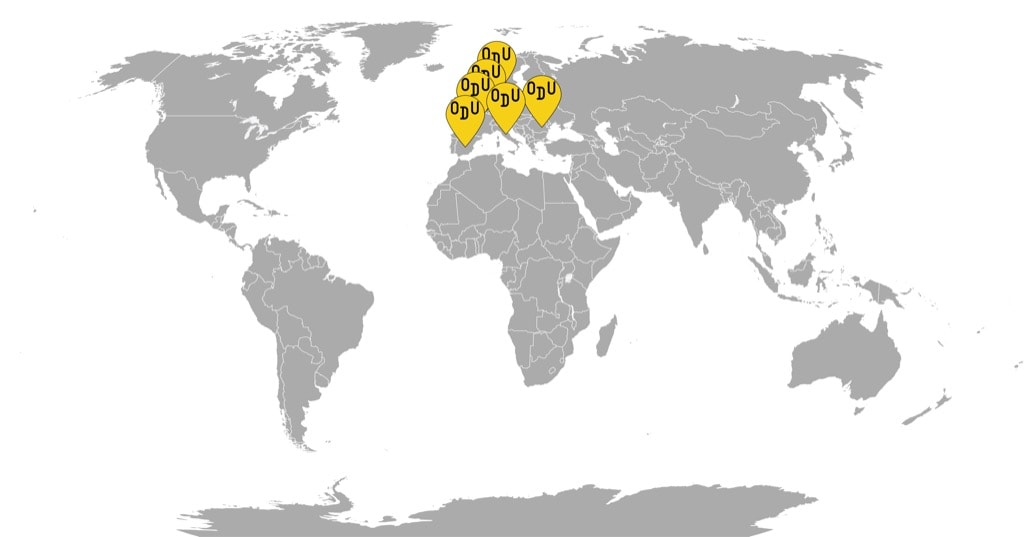 WHAT IT'S ABOUT: When Marona, a mutt with a heart-shaped nose, is hit by a car, she retells the fascinating story of her short but eventful life leading up to the fateful encounter with the moving vehicle. The offspring of a brief affair between a "racist" but smitten Dogo Argentino and a mixed-breed dog, Marona, has had her share of sadness, hunger, and homelessness. But she also knew enough happy episodes to fill her heart's box of souvenirs to the brim. As Marona remembers her dog family and her humans—acrobat Manole, construction worker Istvan and little girl Solange and her family,—a sprawling tapestry of humanity appears. It's spun out of striking abstract art and cathartic doggie wisdoms that the resilient, perceptive creature accumulated throughout her taxing quest for an unobstructed human-dog connection.
WHO MADE IT: Anca Damian is a Romanian filmmaker and animator who rose to prominence with her 2011 animated feature "Crulic", a disquieting account of a man accused of a crime he didn't commit wasting away in a prison hunger strike. She had also made a bunch of non-animated features, all of them dealing, in their own way, with the entanglements of human lived history. "Marona's Fantastic Tale" is her first foray into age-inclusive cinema, inspired by Damian's experience with a stray dog she found roaming the streets of Budapest. Also named Marona, the dog stayed with Damian and her friends before finding her forever home and had affected every household that she became a part of. Damian co-wrote the screenplay based on the original idea with her son, Anghel Damian, who is an actor. 
Brecht Evens, the Belgian artist and illustrator, is behind the film's character design, infusing the story's participants with his wild multi-hued magic. Meanwhile, Gina Thorstensen, a Danish artist based in Barcelona and Italian illustrator Sarah Mazzetti were in charge of the backgrounds, creating a whimsical, unforgettable exercise in screen urbanism. Pablo Pico's soundtrack is the perfect accompaniment to the visuals, punctuating Marona's misadventures and the magical yet perilous city landscape. The end-title song "Happiness Is a Small Thing," performed by Swedish Paris-based singer Isabel Sörling, turns the knife with which you've been gutted.
There are beautiful voice casts in both Romanian and French versions. Lizzie Brochere, who voiced Marona in French, is an actress known both for the French indies, as well as American TV shows, including "American Horror Story." In the Romanian version, Alexandru Potocean of "4 Months, 3 Weeks and 2 Days" voiced Istvan.
WHY DO WE CARE: While definitely hitting all the right spots of our dog-obsessed culture, "Marona's Fantastic Tale" doesn't try to coddle the audience or sanitize the topic. It knocks the breath out of the viewer with surgical precision, yet doesn't offer the convenience of a neat, or particularly happy ending. Many unpleasant truths emerge in the narrative, and every human that Marona encounters comes with a cache of failings that are too recognizable. And as much as you cling on to hope that Marona will finally find her match in humans, the bar is set too high. As Marona herself explains, the difference between dog and human aspirations: dogs like things to be good and stable, while humans seek evolution. And evolution, by its definition, always creates cast-offs and casualties. Each time Marona is taken in, she gets a new name and a new purpose in her human's narrative: but those narratives inadvertently come to a plot-point where humans feel the need to reinvent themselves and their surroundings. The human search for a change in circumstance, whether it's Manole's strife to be a world-famous performer, Istvan's entanglement with his superficial girlfriend, or Solange's transition into a knotty, exhausting adolescent, serves to make Marona redundant in their lives, without fail. And perhaps the only human who replicates Marona's patterns of dedication is Medeea, Solange's mother, and the sole breadwinner in her small family, which in addition to herself, Solange and Marona, includes her elderly father and a cat. Overworked, burdened with a bank loan, exhausted, Medeea remains the only person who doesn't even consider the thought of giving up on her responsibility to Marona. And this is where "Marona's Fantastic Tale" is at its most painful, repurposing the Saint-Exupery maxim "you become responsible forever for those you have tamed" for the new generations. It's thrilling and sexy to have an option of figuring out identities and paths, but sometimes human accomplishment boils down to invisible labor and pretty much just being there for the long haul.
WHY YOU NEED TO WATCH: Anca Damian has been telling complex stories about the faults in humanity for all her life, usually through the eyes of the marginalized people. Now that she decided to explore a new, more age-inclusive audience, and an unexpected vessel that allows reflections on human nature, she was able to reach both narrative sophistication, and communicative simplicity. "Marona's Fantastic Tale" is a film that could very easily be deconstructed into a vast collection of morcels of dog wisdom, but none of it feels forced or overtly loaded with morality. Marona is happy to oblige to whatever human's vision of reality she's living at the moment, including the viewer's, where she is a sage pup dying a tragic death. But that doesn't prevent her from staying faithful to her own history, where she defiantly reminds herself and others about her origins, her first name ("Nine," after her last place in the mother's litter) and the encounters that socialized her as a dog among humans. Marona is an utterly reliable narrator surrounded by people who can't see their own existence for its face value, and this is where the story gets its storytelling power and clarity.
It also helps that while Marona's world is rooted in our reality, with all of its physical vulnerabilities and constraints, it also dazzles with a surrealist sensibility. In it, humans, dogs, and cats coexist with odd bipedal bird-creatures and abstract four-legged worms, and this allows for an additional layer of metaphor to be attached. It's the linearity of Manole exemplified by the stripes on his catsuit that tangle and untangle according to his moods, or Medeea's hair, which keeps her anchored in submission like Rapunzel. And of course, the exaggerated wrinkles in the senior characters, which soften as the hubris of experience gives way to tenderness. Marona is the only character in the film who doesn't change physically. And when she grows within, it's through experiences that further reinstate the balance of power that she was already aware of.  While it may seem that dogs need humans, too, it's a relationship created solely of a human need to define ourselves through dogs. A mesmerizing work of social mythology, "Marona's Fantastic Tale," is a must-see for children and adults alike and a very healthy exercise for your heart muscle to take.
Marona's Fantastic Tale (L'Extraordinaire Voyage de Marona), 2019 
Director: Anca Damian
For more content like this sign up for our weekly newsletter