Born in exile during the country's war for independence, the interdisciplinary artist seeks to find ways to belong and to explore trauma through works of striking beauty and proximity to the earth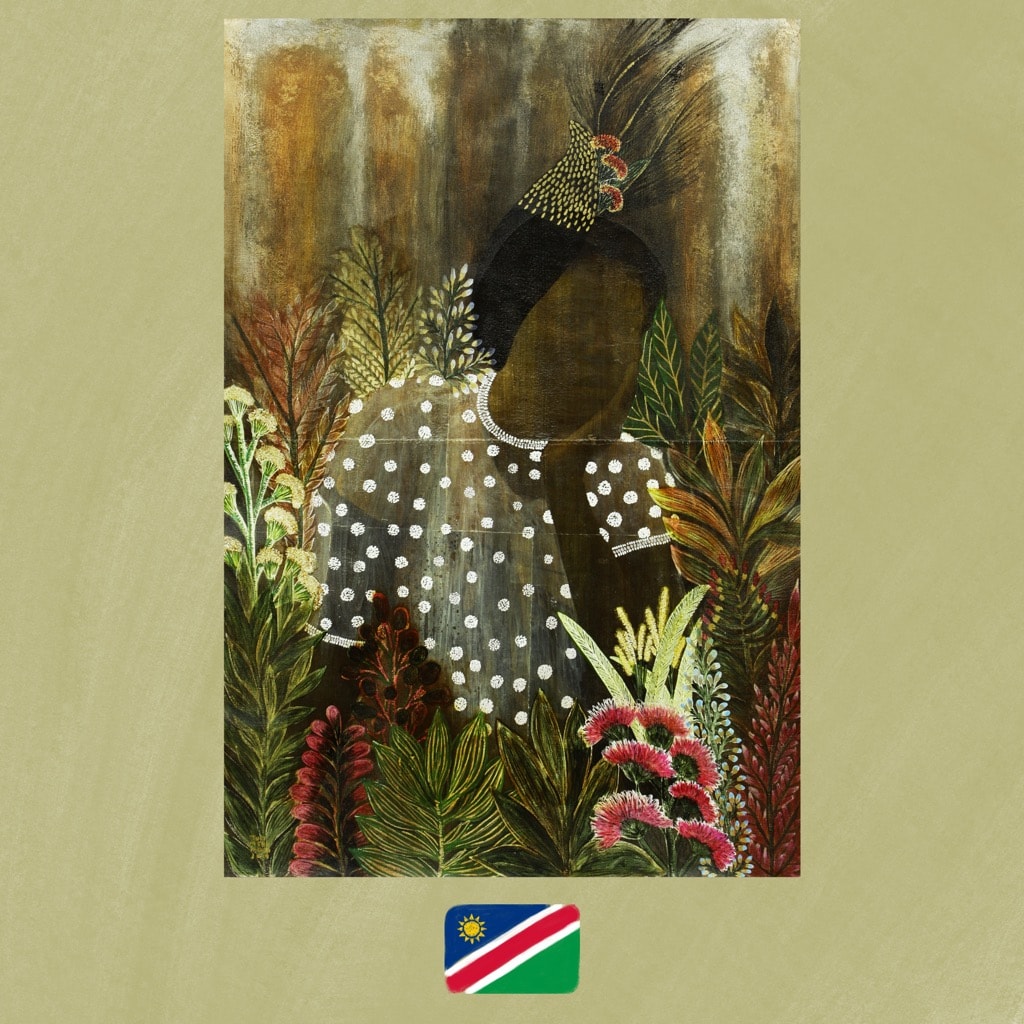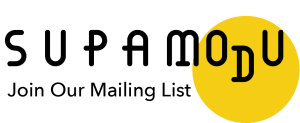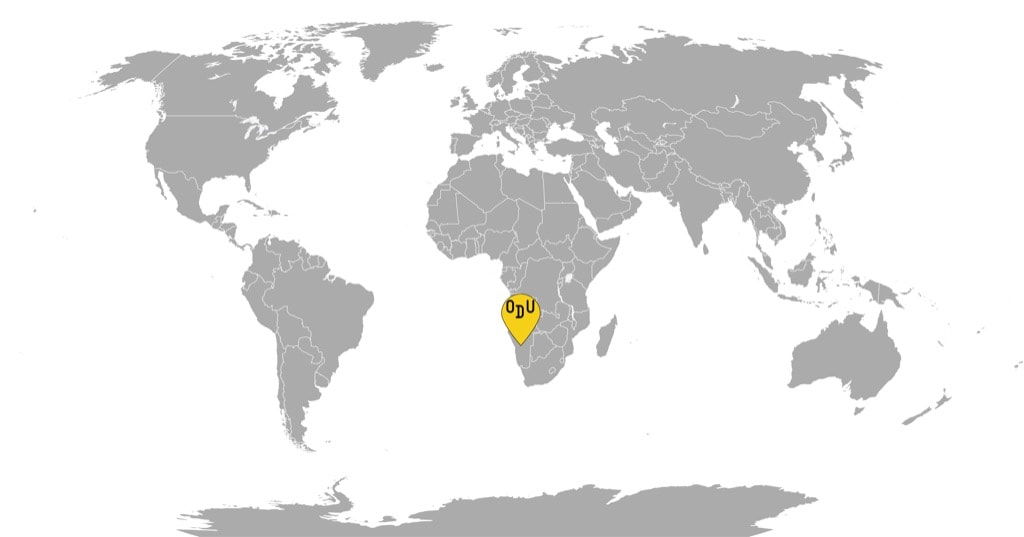 WHAT'S GOING ON: Thick stitches of gleaming gold thread are embroidered over the dusky canvases that are reminiscent of shrouds, with impressions of bodies on them: at times prominent, at times disappearing into the background. The works of Tuli Mekondjo transcend the borders of visual art. Their faded nimbi make them look like religious icons that had withstood the elements, while the dense foliage overpowers the boundaries and lets them bloom into intricate herbariums, where life had been suspended, preserved for the future. And the preservation of memory is Tuli Mekondjo's primary goal. Whether she is creating tangible works, or engaged in performance practice that echoes the rituals of her ancestors, the artist is looking to grasp the fleeting Namibian identity in the aftermath of the Independence War, and the trauma and displacement it had brought.
WHO MADE IT: Tuli Mekondjo Mbumba was born in a refugee camp in Angola in 1982. Having returned home after the proclamation of the country's independence in 1990, she grew up experiencing the rift between herself and those of her contemporaries whose families remained within the country throughout the war. Along with other kids born in exile, and the so-called "GDR kids," who were raised in East Germany during the war, Tuli Mekondjo is often placed outside of the context of "the struggle for independence" and stigmatized as "foreign." That is even though her name literally translates to "We are in the struggle" in her native Oshiwambo language. This inability to be included has led Tuli Mekondjo, who is a self-taught artist, to reflect on the themes of identity, memory, legacy, and connection to ancestors in her work. The loss of her mother at the age of 12 further deepened the artist's resolve to create a body of work that shows how deeply rooted she is as a child of her mother and motherland.
WHY DO WE CARE: As Tuli Mekondjo says in her artistic statement, Namibia as a state and a society had not reassessed the influence of the War of Independence, as well as the preceding years of colonization by Germany and Dutch South Africa, on the citizens. And this is precisely what had led the artist herself to try and wedge out space where attachment to Namibian identity could be reinforced, but with full acceptance of the need to reflect, explore and attempt to reconcile the existing distress. The many concepts with which Tuli Mekondjo experiments in her work are juxtaposed against each other, such as fecundity of the grain, and the virginity of the veils that cover human faces. But it is the fact that they can coexist peacefully that extends the artist's work into a bigger truth about humanity. Tuli Mekondjo's body of work shows that through refusing to separate the layers of identities into separate entities, and instead lifting up each intersection, each tangle, a holistic approach to belonging and healing the intergenerational trauma is possible. By her own admission, the artist first became fascinated with art, as represented through textures and visual phenomena, when she glanced upon the wrinkled, weathered hands of her grandmother in a remote Namibian village. And it's as if such sheltering hands, worn out but motherly, protect her body of work, while simultaneously allowing her to study how her own destiny is intertwined with those of the women who came before, and offering the same kind of solace to others, be they Namibian, or from elsewhere.
WHY YOU NEED TO PAY ATTENTION: Tuli Mekondjo's work is aesthetically mesmerizing in a universal kind of way: it's likely that by looking at it out of context, one wouldn't necessarily be able to assign the geographic origin to it. But it is also deeply rooted in the artist's connection to her identity as a citizen of the Oukwanyama kingdom, as well as her attachment to Namibian Indigenous cultures and practices. Despite living in the modern capital of Windhoek, Tuli Mekondjo brings her art practice to the soil, by working with many earthly materials, such as clay, resin, even mahangu, pearl millet, which is the staple grain of Namibia. And this way, her art practice joins her identity in showing that transience does not interfere with belonging and that someone can keep in touch with their culture even when calamities tear them away. A proud Namibian, who had grown up on the mother's milk of resistance, Tuli Mekondjo possesses the rare gift of observing kinship from outside as much as from within, and the observational distance, as well as the pain of proximity, intermingle by helping her create her works. These works, of dark splendor, full of disquiet and trepidation, but also healing power, are a kingdom upon themselves, a magical place into which one isn't exiled, but absorbed, to be truly what they are, no matter what the land dictates.
For more content like this sign up for our weekly newsletter
SEE TULI MEKONDJO PERFORM